The all-new, next-gen Ford Everest was revealed this past March bearing a host of updates, from its interior and exterior styling to tech features and powertrains, and deliveries of the SUV began in July. Already proving to be a popular entity among shoppers, the new Everest also recently received a perfect five-star safety rating from the Australian New Car Assessment Program (ANCAP), which is good news for consumers. Part of that performance can be attributed to Ford's Matrix LED headlamps with glare-free high beam technology, which the automaker originally revealed back in February.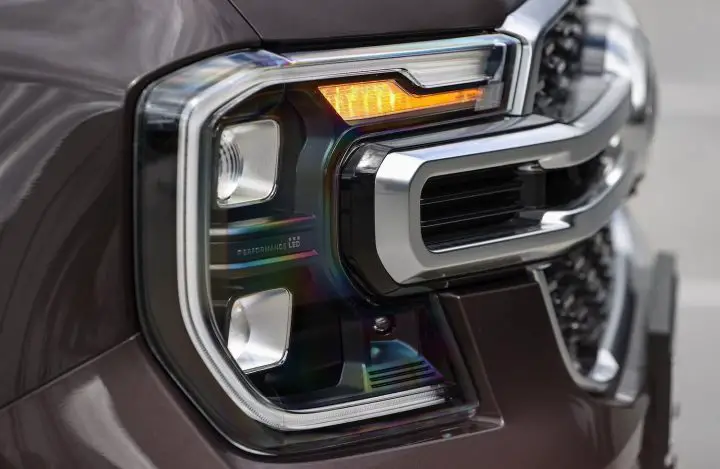 Indeed, the next-gen Ford Everest is equipped with this technology, which aims to help prevent accidents that occur in the dark. The Matrix LED headlamps with glare-free high beam tech use the SUV's forward-facing camera – which can detect headlights or taillights up to 800 meters away – to monitor the road. The system creates a light tunnel that tracks the vehicle even when driving through a bend, keeping it 'in the dark' while all around it, the high beam lighting provides optimum illumination of the road. Additionally, the headlamps also feature High Beam Boost, which uses a cluster of dormant LEDs to offer 30 percent more light than the Matrix LED high beam alone.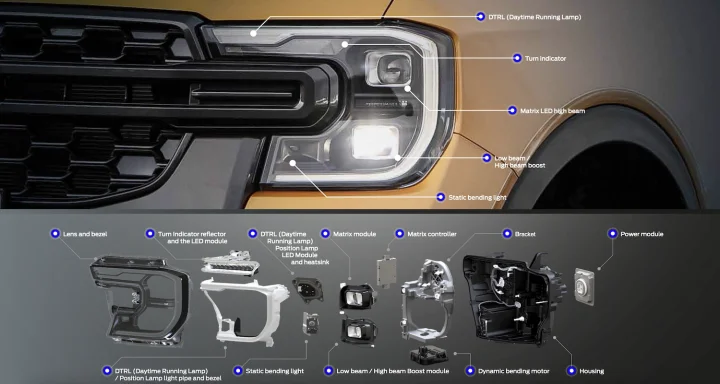 High beam headlights provide an advantage in that low beam lights are angled more down toward the road, which makes them suitable mostly for well-lit areas. High beams, on the other hand, are angled up and offer a longer beam of light when compared to low beams, which improves visibility ahead but can also blind oncoming traffic. However, the new Everest utilizes Dynamic Bending Lights when the low beams are on, which use sensors to measure vehicle speed and steering angle to swivel the headlamps into a bend, allowing the driver to see more of the road ahead compared to conventional, non-bending lights.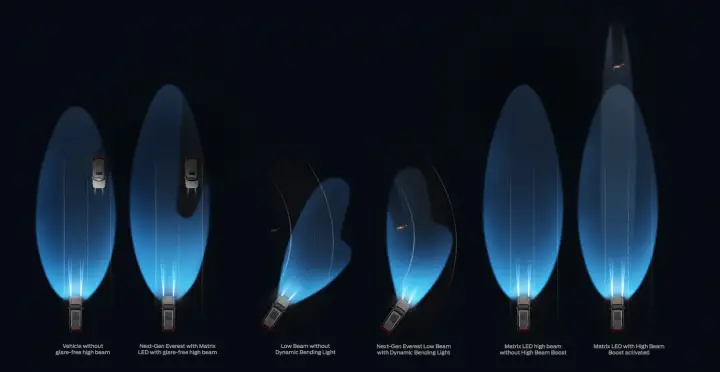 "Ford's glare-free high beam helps maximize the use of high beam, meaning drivers can see significantly more of the road ahead – without causing any distraction to other road users," said Andrew Kok, senior technical engineer. "Low beam lights generally reach out to around 70 meters, but high beam reaches out to around 200 meters. Being able to drive with high beam on but not dazzle other road users means next-gen Everest offers owners maximum illumination of the road, giving them a feeling of additional security. Being able to provide an extra high beam hit of light is one of the features on next-gen Everest that we're really proud of, and we know those customers who do a lot of long-distance driving will really appreciate it."
We'll have more on the next-gen Ford Everest soon, so be sure and subscribe to Ford Authority for the latest Ford Everest news and ongoing Ford news coverage.