While the next-generation Ford Ranger and Ranger Raptor launched in other parts of the world months ago, the North American market will have to wait until next year, when both of these new pickups will launch for the 2024 model year. In markets where it's already on sale, the Ranger has proven to be a smash hit with consumers, to the point where Ford recently added shifts to two of its global plants in an effort to ramp up production of the mid-size pickup. In the meantime, we're still learning new things about the next-gen Ford Ranger Raptor, in particular, including its active exhaust system.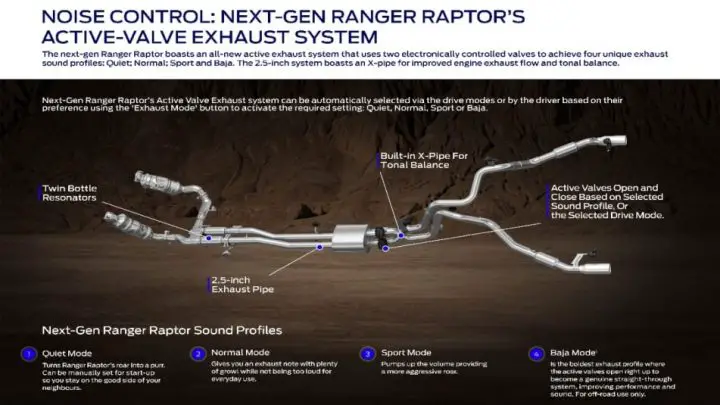 This particular 2.5-inch system is essentially identical to the one used in the Ford Bronco Raptor, with which the next-gen Ford Ranger Raptor shares the Ford T6 platform and the twin-turbocharged Ford 3.0L V6 EcoBoost powerplant. Owners are able to control the sound of the exhaust by choosing one of four selectable modes – Quiet, Normal, Sport, or Baja. For those that don't want to head out to work every morning and disturb the neighbors, the pickup can be set to always start in Quiet mode, or to operate in that mode during set times of the day.
Toggling through each exhaust mode can be accomplished by simply pressing the button on the steering wheel with the exhaust pipe logo, which in turn opens valves – much like a saxophone or a large pipe organ. While Quiet is obviously the quietest of the group, Normal is designed to provide a balance of comfort and feedback, while Sport is slightly louder for spirited driving and Baja emits a much louder tone, but is reserved for off-road use only. However, those that like the Baja sound can also download it as a ringtone from local Ford dealer websites, apparently.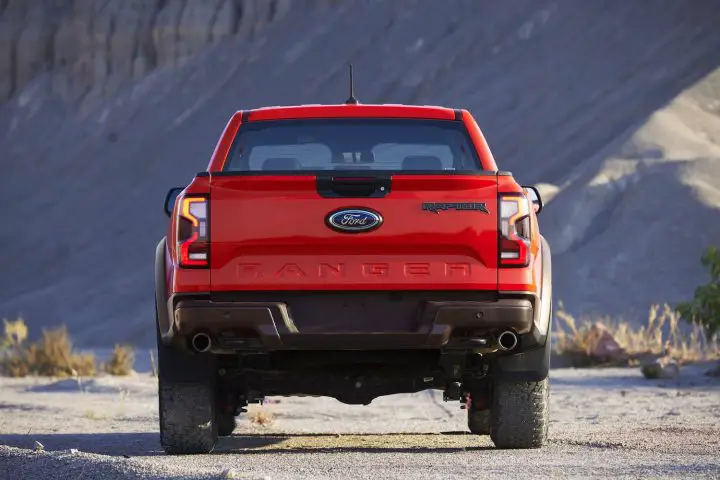 "There's a lot involved in the science of sound, and we wanted Raptor to sound the way it looks and drives," said Justin Capicchiano, Ford Performance and special vehicle engineering manager. "The team had to consider and model everything from the whistle produced by the turbochargers to filtering out prolonged tones when driving at a constant speed. From computer modelling to physical prototypes, the intention was to create a distinctive and emotionally exciting engine note that will have the hair standing up on the arms of those who hear it. We want you to know it's a Ranger Raptor driving down the road before you see it."
We'll have more on the next-gen Ford Ranger Raptor soon, so be sure to subscribe to Ford Authority for the latest Ford Ranger news, Ford Ranger Raptor news, and comprehensive Ford news coverage.