Following its reveal earlier this year, Ford Bronco Raptor deliveries began this past August, and many have already been subjected to off-road trails, comparison tests, and even the dyno. Most 2022 Ford Bronco Raptor production is going to carryover order holders, however, which means that finding one to purchase won't be terribly easy for most, and will likely require dishing out a large markup on top of MSRP to do so. Regardless, when your name is Vaughn Gittin Jr. – professional racer and purveyor of RTR, which produces a host of Ford-related parts and accessories, including many for the Bronco – you don't have those kinds of problems.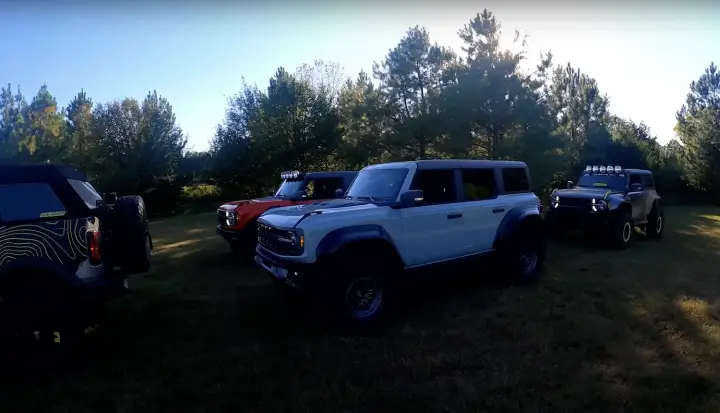 In fact, Vaughn Gittin Jr. just took delivery of his new Bronco Raptor and posted a video walkaround of the hardcore, high-performance off-roader, which he just received around a week ago. Of course, he couldn't leave the SUV unmodified, and has already swapped out the stock wheels with a set of charcoal RTR Evo 6 units on it, which isn't a huge surprise.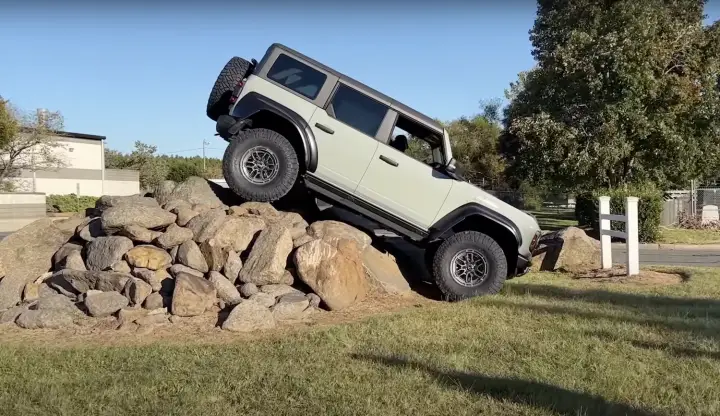 Gittin Jr. also goes over the mechanicals of the Bronco Raptor, noting that its Fox Live Valve suspension setup is the same one that he uses on the racing version of the SUV, though he did forgo some options, including the carbon fiber interior trim. Luckily, since the Bronco Raptor isn't terribly different from its regular counterpart, a lot of existing aftermarket upgrades will aready fit, too. Compared to the regular Bronco RTR with a 2.5-inch lift, the Fun Runner Bronco, and a stock Sasquatch Package-equipped model, the Raptor looks quite large, particularly in terms of width.
After his walkaround, Gittin Jr. hops in his new ride and proceeds to drive it over some rocks in a light test, which it completes with no problem. Knowing him, however, some much more sinister tests await, and we'll certainly be looking forward to those.
We'll have more on the Bronco Raptor soon, so be sure and subscribe to Ford Authority for more Ford Bronco news and ongoing Ford news coverage.