The purveyor behind the YouTube channel Woodworking Art has been carving out impressively realistic vehicular recreations from blocks of wood for some time now, with a collection that includes a number of Blue Oval products such as a 2020 Ford Ranger Raptor with a working suspension, another Ranger Raptor with a host of "modifications," a 1967 Ford Mustang Shelby GT500 replica, and a 2013 Ford Mustang GT. Now, that same channel is back with yet another super cool wooden creation that replicates a 2022 Ford F-450 Super Duty pickup.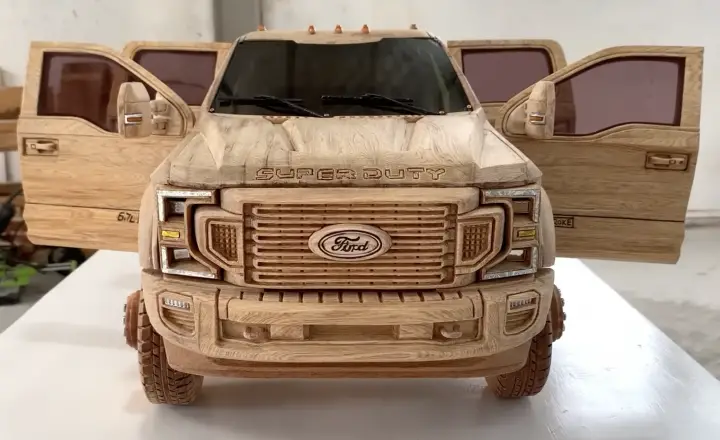 Here, as is usually the case, we get to see the 2022 Ford F-450 come to life via nothing more than the talented carver's hands, some tools, and a simple block of wood. However, this time around, our host uses a rather large piece of wood to create what is a larger replica than what he normally tinkers around with, first drawing out the shape of the pickup before firing up his tools.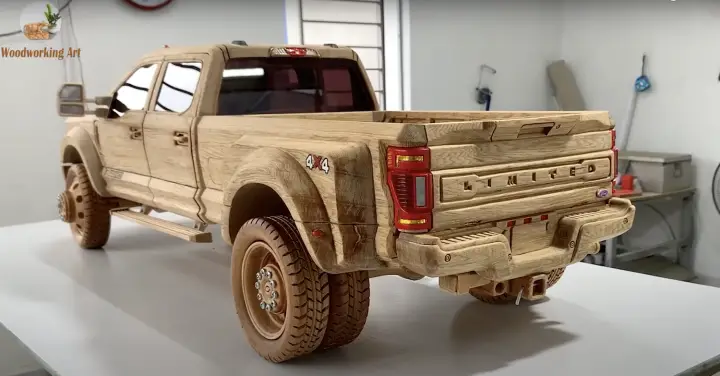 From there, our host chisels, drills, cuts, and sands the rough pieces of wood into something that resembles a modern-day Ford Super Duty pickup. As is usually the case, that process begins with building the separate components of the truck's body, then fitting them together. From there, we can watch as every little piece and part is then carved individually and fitted in masterful fashion – including the suspension components, tires, and even a highly detailed interior and engine bay.
As is usually the case with Woodworking Art's creations, this Super Duty features functional parts throughout. The doors, tailgate, tailgate step, and hood work like the real thing, the wheels roll, and there are even retractable running boards in case some tiny toy figure wants to climb inside a bit easier. The details here are nothing less than incredible as well, making it perhaps the creator's finest piece of work to date.
We'll have more cool videos like this to share soon, so be sure and subscribe to Ford Authority for the latest Ford F-Series news, Ford Super Duty news, and ongoing Ford news coverage.