The 2023 Ford F-150 Raptor R brought V8 power back to the performance trim upon its debut, and based on recent reviews of the range-topping pickup, that appears to have been a good decision on The Blue Oval's part. However, off-road pickups designed strictly for performance are destined to be some of the least fuel efficient vehicles on the market, and based on the pickup's official EPA fuel economy figures, the Raptor R is no different.

2023 Ford F-150 Raptor R EPA Fuel Economy Ratings

| | 2023 Ford F-150 Raptor R | 2022 Ram 1500 TRX | 2023 Ford F-150 Raptor 37 |
| --- | --- | --- | --- |
| City MPG | 10 | 10 | 14 |
| Highway MPG | 15 | 14 | 16 |
| Combined MPG | 12 | 12 | 15 |
In the least surprising development of this year, the 2023 Ford F-150 Raptor R is now officially the thirstiest F-150 variant currently on sale. But the pickup did eke out a small victory against its prime competitor, the Ram 1500 TRX, as it is the highway fuel economy champ by one mile per gallon. When compared to its standard Raptor counterpart, the R is notably thirstier though, although the Ford 3.5L V6 EcoBoost powered variant isn't exactly thrifty with its fuel consumption either. In any event, the difference in fuel economy between the two Raptor variants likely comes down to the Raptor R's slightly heavier curb weight due to its V8 engine, which makes it about 70 pounds heavier than the V6 model. Additionally, the Raptor R is equipped with a beefier front axle and a larger driveshaft, which further explains why the R sucks down gasoline faster than the EcoBoost model.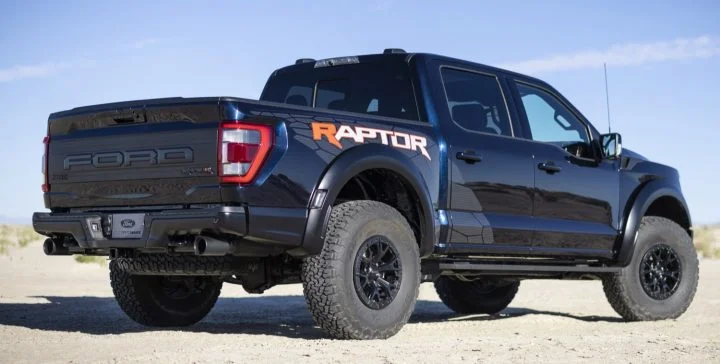 The 2023 Ford F-150 Raptor R produces 700 horsepower from the Ford 5.2L V8 Predator, which originally debuted on the Ford Mustang Shelby GT500. Unlike the Mustang, the Raptor R utilizes a new supercharger pulley, stainless steel exhaust manifolds, a unique oil cooler and filter, deeper oil pan, wider air inlet, and a high-flow conical air filter. Additionally, the 10-speed automatic transmission received a unique calibration for the R. Pricing starts at just over $109,100 and the first examples are slated to arrive at dealers in late 2022.
We'll have more on the F-150 Raptor R soon, so subscribe to Ford Authority for the latest Ford F-150 news, Ford F-150 Raptor news, and ongoing Ford news coverage.