The Blue Oval pulled the veil off the formidable 2023 Ford F-150 Raptor R back in July of this year, adding a supercharged V8 engine to the F-Series line of pickups. Despite its supercharged engine, it will likely be slower than the Ram TRX when it comes to the gallop from zero to 60 mph. Despite this minor ding to its performance, the muscle truck has raked in quite a few glowing reviews that indicate it's an extremely compelling vehicle regardless of straight line performance.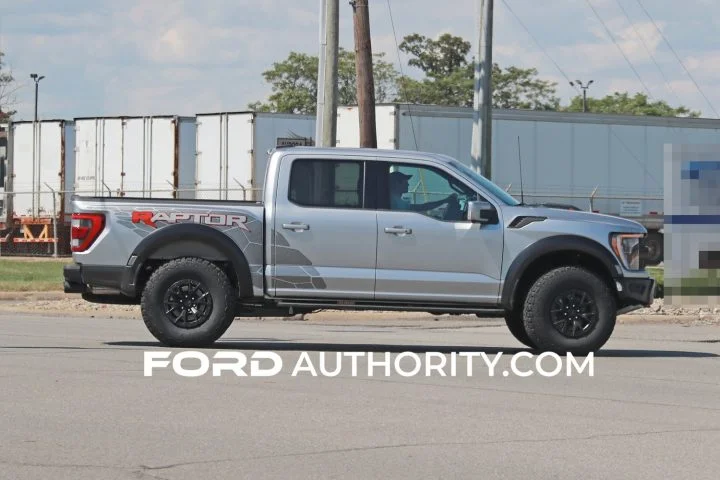 Frank Markus of MotorTrend draws comparisons between the two muscle trucks, but ultimately, he says it's the F-150 Raptor R that comes out on top. "Ford is offering a real alternative here: technical finesse versus Ram's brute force," he writes. He also praises the muscle truck for its innovative suspension, which has been tuned to handle its massive 37-inch tires. A twin-tube design means that fluid is allowed to flow freely through the shocks, meaning that "no rain-sodden Michigan sand dune can make a Raptor R seat even a tiny bit."
Ezra Dyer of Car and Driver is equally impressed with the 2023 Ford F-150 Raptor R, touting it as the "long-awaited but maybe not inevitable zenith of the Raptor brand." He does acknowledge that the Raptor R's supercharged 5.2L V8 Predator engine throws 700 horsepower to the TRX's 702, but notes that it's such a nominal difference, it's not likely to be noticed by the everyday driver. However, when it comes to taking jumps and fooling around in a sandy environment, the Raptor R is extremely able-bodied, even without that extra horsepower.

The Drive holds a similar sentiment for the 2023 Ford F-150 Raptor R, likening its driving experience to "letting an actual dinosaur loose at the dog park," according to Andrew P. Collins. He says that it's more than just a beefed-up Ford F-150, sporting specialized equipment to handle all that power, including a unique engine block, headers and valvetrain, along with other critical components.

All in all, it seems that the 2023 Ford Raptor R is one hell of a pickup truck – and it better be, considering its starting price tag sits right around $100,000. As Ford Authority previously detailed, the Raptor R is the latest recent Blue Oval product to receive high praise from critics, as two Ford Bronco variants – the Everglades and the Raptor – also entranced the press when they had the opportunity to drive the specialty models.
We'll have more on the Raptor R soon, so be sure and subscribe to Ford Authority for more Ford F-Series news, Ford F-150 news, Ford F-150 Raptor news, and comprehensive Ford news coverage.