As the oldest full-size pickups on the market, the outgoing Toyota Tundra severely lagged behind the competition when it came to capability, and its tech features were woefully outdated. That changed with the all-new model, which debuted in late 2021 for the 2022 model year. The current-generation Tundra rides on an all-new platform and swapped out its leaf spring suspension system for a coil spring setup across the board. Paired with other significant changes, it makes total sense that The Blue Oval would want to benchmark it against the Ford F-150, which is presumably why the company was recently spotted with an example near its campus.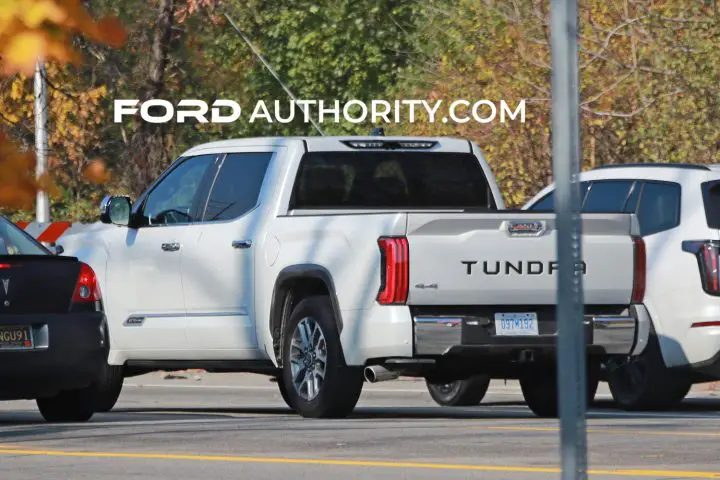 The Tundra in question has been operating around the automaker's campus and is wearing manufacturer plates, a not-so-subtle hint that it's currently being evaluated. Regardless, this particular Tundra appears to be a 1794 Edition, which is more or less competes directly against the Ford F-150 King Ranch. At the moment, those models are about $5,000 apart when it comes to MSRP, as the Tundra 1794 Edition starts at about $58,000 while the 2023 F-150 King Ranch boast a $63,000 MSRP. Regardless, all 1794 Edition trucks boast 20-inch alloy wheels, chrome grille and exterior accents, walnut woodgrain trim, and the ability to be paired with the TRD Off-Road Package.
Under the hood, the 1794 Edition features the standard 3.5L i-Force twin turbocharged V6, which is rated at 389 horsepower and 479 pound-feet of torque. Optional is a 3.5L i-Force Max twin turbo hybrid V6 rated at 437 horsepower and 583 pound-feet of torque. Both engines are mated to a 10-speed automatic transmission and are direct competitors to the Ford 3.5L V6 EcoBoost and 3.5L V6 PowerBoost hybrid, respectively. To date, the Ford F-150 and current-generation Toyota Tundra are the only full-size pickups to offer full hybrid powertrains, as the Ram 1500 features a mild hybrid setup.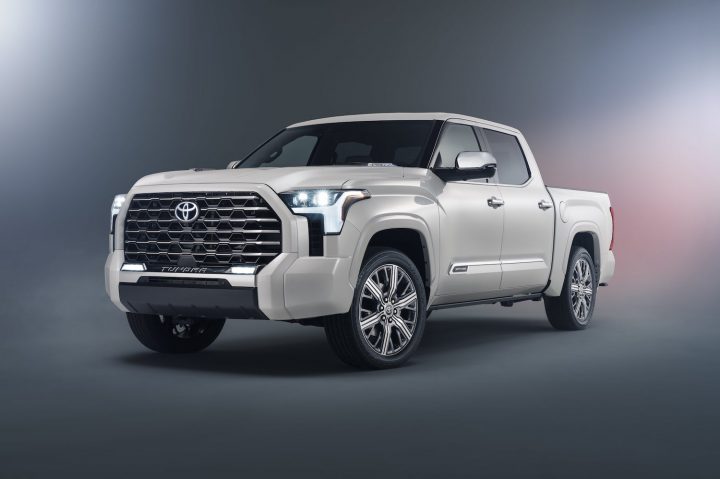 The current-generation Toyota Tundra is much more competitive than the ancient pickup it replaced, and it even features some things that have yet to make it to the gasoline F-150, like a 14-inch infotainment screen and rear air springs, with the latter feature also being offered on the Ram as well. However, as Ford Authority previously reported, the all-new pickup failed to impress Motor Trend which concluded that the F-150 was the better pickup to buy, based on its easier to use controls and its more comfortable ride.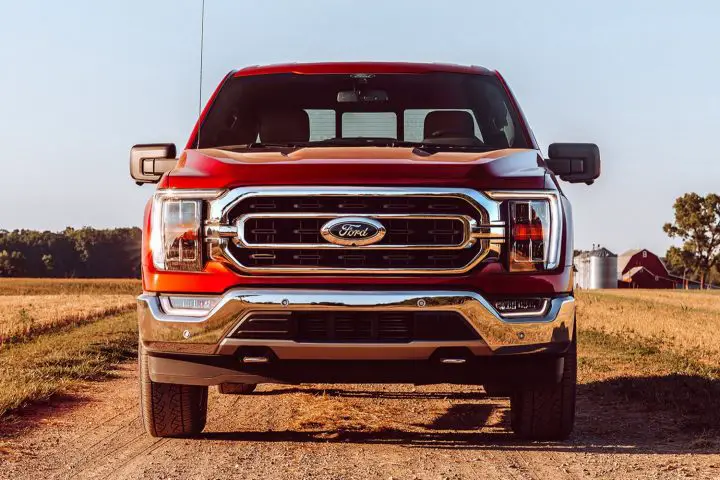 Sales Numbers - Full-Size Mainstream Pickup Trucks - Jan-Sep 2022 - USA
| MODEL | YTD 22 / YTD 21 | YTD 22 | YTD 21 | YTD 22 SHARE | YTD 21 SHARE |
| --- | --- | --- | --- | --- | --- |
| FORD F-SERIES | -14.26% | 458,547 | 534,831 | 31% | 32% |
| CHEVROLET SILVERADO | -7.98% | 381,337 | 414,389 | 26% | 25% |
| RAM RAM PICKUP | -16.49% | 363,089 | 434,772 | 25% | 26% |
| GMC SIERRA | -11.55% | 169,107 | 191,186 | 12% | 11% |
| TOYOTA TUNDRA | +14.62% | 74,519 | 65,013 | 5% | 4% |
| NISSAN TITAN | -45.17% | 12,487 | 22,772 | 1% | 1% |
| TOTAL | -12.26% | 1,459,086 | 1,662,963 | | |
Through the third quarter of 2022, Ford F-150 sales placed it first in the full-size pickup segment, although the combined sales of the GM siblings are significantly higher. As for the Tundra, it severely lags behind its American rivals, coming in at second to last, although it earned the distinction of being the only pickup to gain sales ground through September.
In addition to the Tundra, Ford recently had a Toyota Supra in its possession, presumably to benchmark the coupe against the 2024 Ford Mustang. The Blue Oval also evaluated the Ram 1500 5.7L Hemi V8 mild hybrid earlier this year.
We'll be keeping tabs on Ford's rivals and what vehicles the automaker is benchmarking, so subscribe to Ford Authority for continuous Ford news coverage.