In recent weeks, Ford Authority has spotted FoMoCo benchmarking a wide variety of vehicles, including the new Toyota Tundra, Toyota Supra, Chevy Corvette Z06, GMC Hummer EV, and Polestar 2. Benchmarking is, of course, a common practice in the automotive industry, one that enables automakers to take a closer look at what their competition is up to. However, the latest vehicle Ford Authority has spotted being benchmarked by The Blue Oval near its Dearborn campus is a rather interesting one – the Porsche Panamera Turbo S E-Hybrid, which is wearing the tell-tale yellow Ford inventory sticker.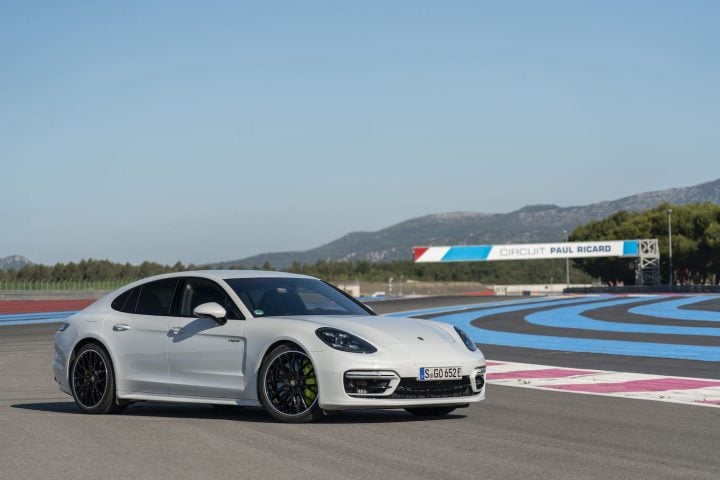 There was a time, not terribly long ago, when the mere idea of a four-door Porsche sent fans into a frenzy, but the Panamera has been on sale for over a decade at this point. Many variants have followed, including the Porsche Panamera Turbo S E-Hybrid, which is a plug-in hybrid that effectively serves as a range-topping model. However, unlike many hybrids, the electric power assist present in this sedan is more for performance than saving the planet.
Packing a twin-turbocharged 4.0L V8 with electric assist underhood, the Panamera Turbo S E-Hybrid churns out a combined 690 horsepower and 641 pound-feet of torque, which enables it to rocket to 60 miles-per-hour in 3.0 seconds and reach a top speed of 196 miles-per-hour. As one might imagine, that kind of performance comes at a cost, and the ultimate Porsche sedan (save for the Taycan Turbo S, that is), starts out at a rather lofty $196,000.
It's unclear why Ford – which no longer sells sedans in North America – would be benchmarking this rather pricey sports car, but it's possible that the automaker could be merely taking a closer look at its hybrid system. After all, Ford intends to continue to build and sell hybrids for the foreseeable future, even as it invests $50 billion with a goal of producing two million EVs annually by 2026.
We'll have more on everything Ford's competition is up to soon, so be sure and subscribe to Ford Authority for comprehensive Ford news coverage.