The Ford F-150 Lightning has enjoyed tremendous success since its launch, and remains in such high demand to this day that FoMoCo is still working to fulfill all of its initial orders for the EV pickup. Aside from winning universal praise from critics and some pretty prestigious awards, the F-150 Lightning is also a strategically critical vehicle for The Blue Oval itself as it pivots more toward electric vehicles and away from gas-powered models. However, Ford F-150 Lightning owners must rely on third-party charging networks while on the road, and one of them – an Electrify America station – reportedly bricked one person's pickup while it was charging recently.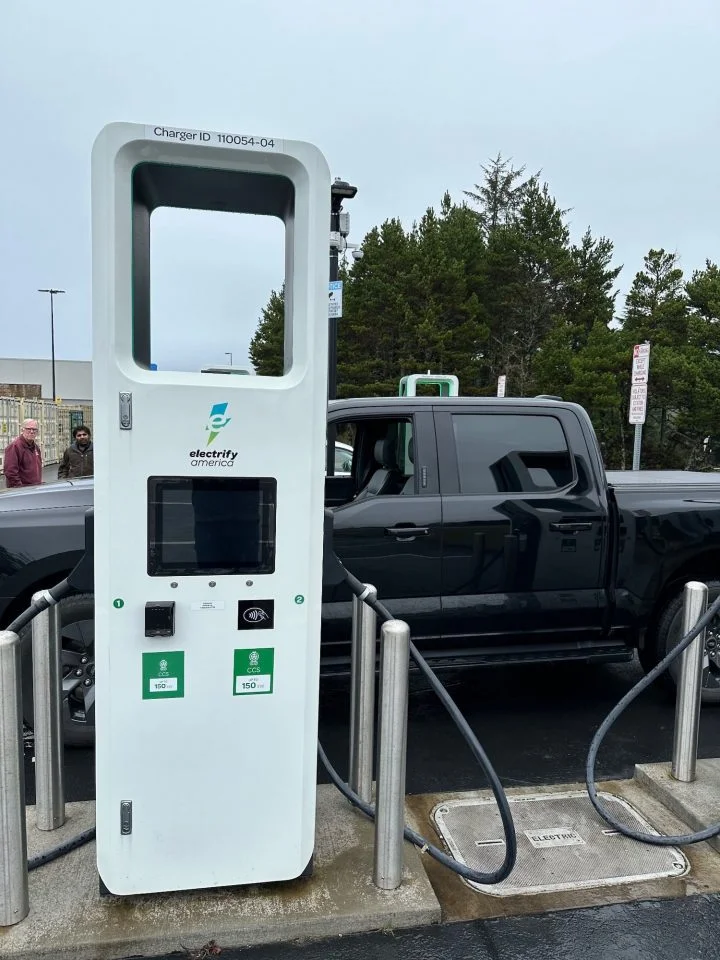 That person is Eric Roe, who was on a road trip in his Ford F-150 Lightning when he stopped at an Electrify America station in Newport, Oregon for a charge. Roughly 1,000 miles from home with his family and two dogs in tow, Roe plugged his truck in, only to hear a loud boom shortly after it began charging. After that, the charger went dark and a series of error codes were displayed inside the Lightning. The truck unfortunately wouldn't restart or move at that point, and Roe couldn't even shift into neutral.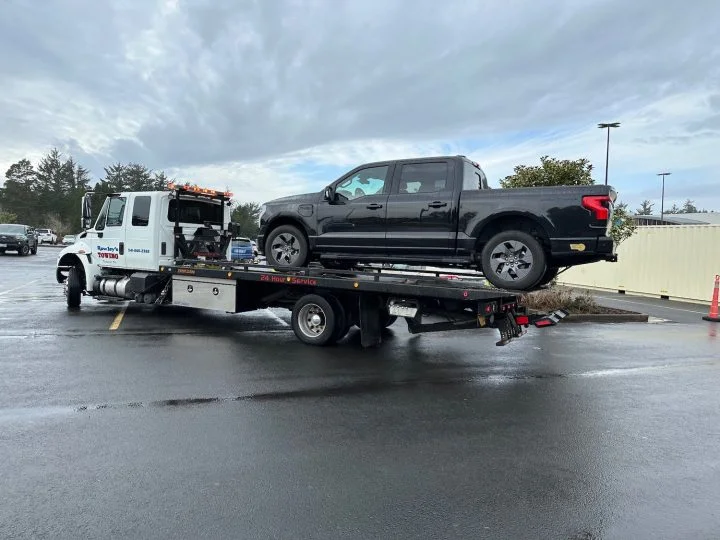 Roe called both Electrify America and Ford before ultimately relying on roadside assistance to tow his pickup away, and making matters worse, a dealer informed him that they wouldn't be able to look at the truck for a couple of weeks. However, Ford stepped in and escalated the issue, and Roe notes that the 12-volt battery must be replaced before diagnostic work can be completed. Regardless, Roe notes that both Ford and Electrify America are involved and trying to figure out what went wrong.
My @Ford being towed away from an @ElectrifyAm charging station after the EA charger fried my truck. pic.twitter.com/V7tFWPWSoi

— Eric Roe (@Eric_L_Roe) November 27, 2022
It's worth noting that some commenters claim that this issue isn't totally isolated – in fact, there are owners of other EVs out there that have apparently had the same thing happen to them. Many speculate that the problem is related to Electrify America's newer chargers, and claim that they supply more current than the vehicle is requesting. It's unclear if that is the case, but we'll certainly be keeping our eye on this story to see what happens with Roe's pickup.
Some Ford Authority readers have reached out to share what could be some additional details on what caused this to happen. Those readers note that it's impossible for this damage to be caused by overcurrent from the charger, as current is a "pull" function, not a supply function, except in the event that current demand exceeds the supply's upper limit – which means that charger cannot supply more current than the pulling circuit at the other end. If overcurrent was indeed the cause of this issue, it would be the truck's fault, while the charger could be at fault if the damage was the result of incorrect or uneven voltage.
We'll have more on this soon, so be sure and subscribe to Ford Authority for the latest Ford F-Series news, Ford F-150 news, F-150 Lightning news, and comprehensive Ford news coverage.