Much ado has been made about the Ford F-150 Lightning and its Pro Power Onboard generator, which boasts the ability to charge other EVs and even entire homes for days – or more, when paired with solar panels. Since its launch, owners are finding this capability to be rather useful, but one thing we haven't seen – until now, at least – is the Ford F-150 Lightning charging an EV plane. Fittingly, the very first example of this happened during a historic moment in all-electric air travel recently.
A grand total of four Ford F-150 Lightning owners chipped in to help Remy Oktay – an engineering student at Lafayette College in Pennsylvania – recharge a Pipistrel Alpha Electro as he traveled from Connecticut to Pennsylvania, where the aircraft served in what is believed to be the first electric plane flyover at a football game before a rematch in one of college football's oldest rivalries between Lafayette and Lehigh.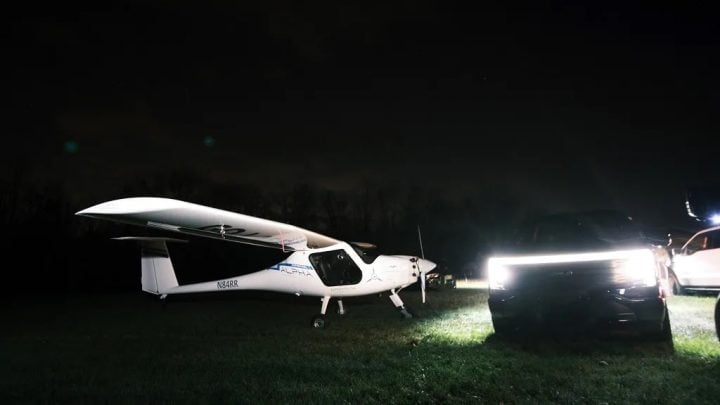 Due to federal regulations and charging infrastructure limitations at airports along the route, the plane, which has a 75-mile range, needed to land five times at small, private airstrips to recharge along the way from Hartford, Connecticut, to Easton, Pennsylvania, taking an estimated hour and a half to recharge its battery at each stop. This is believed to be the first time an electric plane has been charged using an electric vehicle.
Oktay wound up assembling a 28-person crew to help him achieve this feat, a mere two years after acquiring his pilot's license. His love of aviation, environmental conservation, and engineering inspired him to explore the idea of all-electric flight, and he proceeded to work several hours per day, in between classes, for months to prepare for his historic journey. His efforts also caught the attention of Keith Oglesby, Ford's manager of electrified powertrain systems and a 1992 Lafayette graduate whose team did early research for the F-150 Lightning and built the first two prototypes.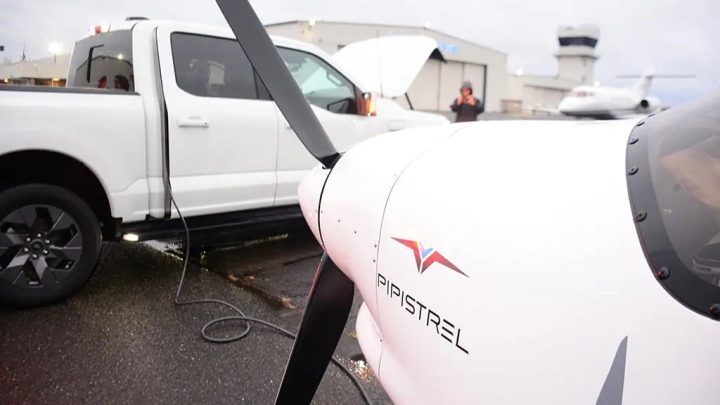 Oglesby – as well as the maker of his EV plane – helped Oktay create custom connectors so that the F-150 Lightning could charge it, as well as make it compatible with the 240-volt power outlet that comes with Pro Power Onboard. Ultimately, this group effort resulted in the trip going off without a hitch, and the young man etching his name in the history books along the way.
We'll have more on the F-150 Lightning soon, so be sure and subscribe to Ford Authority for the latest Ford F-Series news, Ford F-150 news, F-150 Lightning news, and comprehensive Ford news coverage.