The Ford F-150 Lightning has been subjected to all sorts of tests over the past several months, and along the way, it's won over quite a critics, racking up numerous awards in the process. Some have even torn down the EV pickup to get a closer look at what makes it tick, including engineer Sandy Munro, who has taken a deep dive into its frunk and chassis in recent weeks. However, while the Ford F-150 Lightning has been praised for a number of things, including its cargo capacity – it hasn't fared quite as well in various towing tests. And that leads to the obvious question – how does the F-150 Lightning perform when its bed is loaded down with cargo?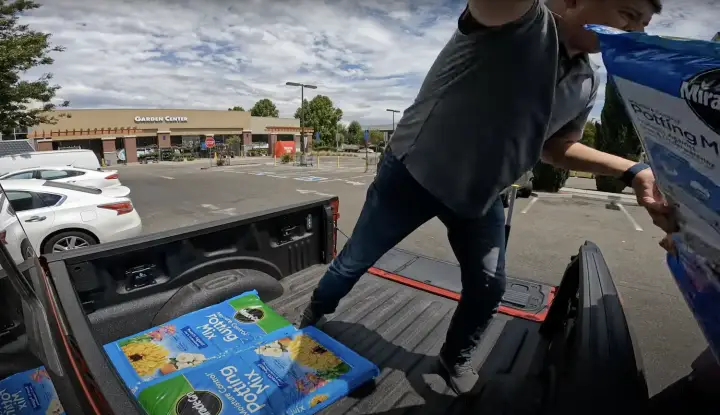 That's precisely the question that Alex from the YouTube channel EV Buyer's Guide set out to answer in this latest video, in which he subjects the Ford F-150 Lightning to a payload test. As Alex points out from the onset, this particular test is applicable to far more owners than towing tests, as that's precisely what the majority of truck owners use them for – throwing things in the back such as bags of soil or other large items from the local hardware store on weekends.
Thus, that's precisely what Alex does – he drives to Home Depot and proceeds to load up the F-150 Lightning with potting soil, an umbrella, and salt. The truck's Onboard Scales feature makes it easy to do just that without exceeding its payload capacity, which in this case comes out to around 1,200 pounds with the driver. He then set out on a 60-mile test loop at an average speed of 69 miles-per-hour with the air conditioning on to see how that extra weight impacts efficiency.
Unloaded, the Ford F-150 Lightning averaged 2.2 miles per kilowatt, giving it a range of around 280 miles – right on par with the EPA estimate of 283 miles on the highway and better than the Rivian R1T, which recorded 2.5 miles per kilowatt. Loaded up, the Lightning lost 39 miles of range or 12 percent – while the R1T lost 42 miles, or 13 percent. It's a pretty reasonable loss, particularly when compared to what happens when these trucks are towing, but as Alex points out, it's also quite a bit more than a comparable ICE-powered pickup might lose in terms of fuel efficiency when hauling a heavy load.
We'll have more on the F-150 Lightning soon, so be sure and subscribe to Ford Authority for the latest Ford F-Series news, Ford F-150 news, F-150 Lightning news, and comprehensive Ford news coverage.