Ford Motor Company sales fell 10 percent to 158,327 units during October 2022 in the United States. Sales decreased at both FMC brands, Ford and Lincoln.
"Ford continues to see strong demand for its vehicles, with orders for '23MY vehicles up 134 percent over this time last year," said Vice President, Ford Sales U.S. and Canada, Andrew Frick. "The all-new Super Duty saw a record 52,000 orders in just five days. The F-Series continued as America's No. 1 truck, expanding its lead over our second-place competitor to more than 100,000 trucks this year. We doubled our electric vehicle sales. F-150 Lightning had its best monthly sales performance since launch," he added.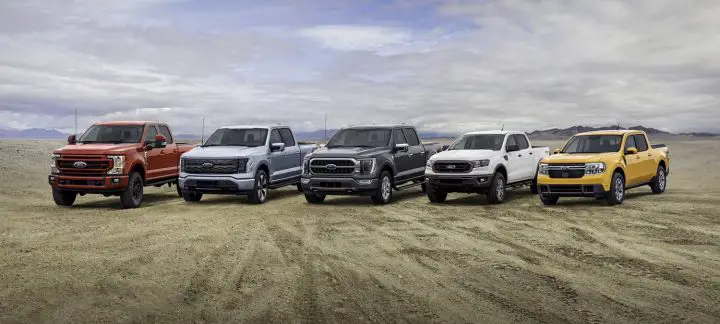 FoMoCo Sales Notes – U.S. October 2022
Total Ford Motor Company sales during October 2022 decreased 10 percent to 158,327 units

Truck sales totaled 87,205 units, down 7.7 percent total and down 0 percent at retail
SUV sales totaled 67,266 units, down 14.1 percent total and down 18.2 percent at retail
Electrified sales totaled 6,261 units, up 8 percent total and up 79.1 percent at retail

Record demand for '23MY vehicles continues with retail orders up 134 percent over '22MY vehicles at this time last year. Orders for '23MY vehicles totaled 255,000

For the seventh straight month, about 50 percent of retail sales came from previously placed orders
Year to date, retail share is up 1.2 percentage points

Ford's electric vehicle momentum continued in October with sales of its EV lineup up 120 percent over last year, about two times the rate of growth of the overall EV segment. Ford's October share of the electric vehicle segment was up 2.2 percentage points over last year with 8.9 percent share

Ford ranks No. 2 in EV sales behind only Tesla
F-150 Lightning continues as America's best-selling electric truck with sales of 2,436 – its best monthly sales performance since its introduction this year
America's best-selling electric van, E-Transit, climbed 71.5 percent compared to September on sales of 770 vans
Ford sales of electric trucks, including Lightning and E-Transit, totaled 3,206 – up 35.4 percent over September and our best electric truck performance since launch

F-Series expands its lead through October as America's best-selling truck on total sales of 523,712 vehicles. This extends F-Series' lead over its second-place competitor to 105,427 trucks this year

Order banks opened for the '23MY Super Duty on Oct. 27th with over 52,000 total new orders placed in five days – averaging more than 10,000 orders per day

Ford's Bronco family, including Bronco and Bronco Sport, achieved total sales for October of 18,300 – up 10.5 percent over last year.
Inventory & SAAR:
Ford did not provide inventory or SAAR information, representing a notable change in the details provided by Ford for its sales reporting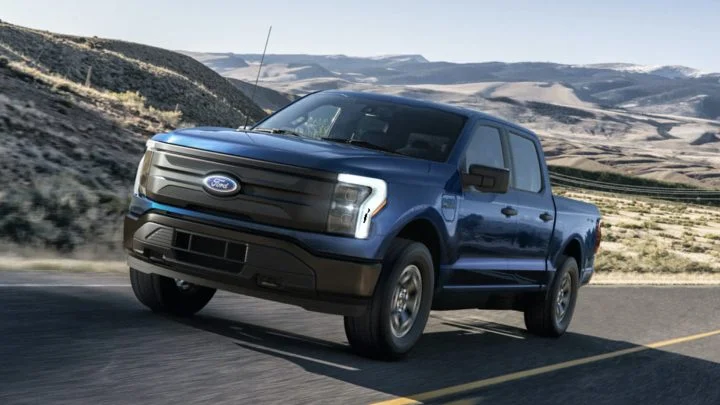 Brand & Model Sales
Ford sales decreased 9.8 percent to 135,978 units:
Lincoln sales decreased 13.8 percent to 6,666 units:
During the first ten months of the 2022 calendar year, Ford Motor Company sales decreased 2.2 percent to 1,538,821 units.
Sales Results - October 2022 - USA - Ford
| MODEL | OCT 2022 / OCT 2021 | OCTOBER 2022 | OCTOBER 2021 | YTD 2022 / YTD 2021 | YTD 2022 | YTD 2021 |
| --- | --- | --- | --- | --- | --- | --- |
| BRONCO | +48.40% | 10,928 | 7,364 | +453.93% | 97,315 | 17,568 |
| BRONCO SPORT | -19.88% | 7,372 | 9,201 | -3.38% | 87,348 | 90,405 |
| E-SERIES | -9.47% | 3,692 | 4,078 | -15.16% | 25,915 | 30,545 |
| ECOSPORT | +15.24% | 1,611 | 1,398 | -22.55% | 27,797 | 35,892 |
| EDGE | -44.98% | 5,133 | 9,329 | +13.19% | 72,756 | 64,280 |
| ESCAPE | -26.18% | 9,966 | 13,500 | -4.80% | 119,277 | 125,291 |
| EXPEDITION | +8.32% | 6,118 | 5,648 | -31.68% | 47,725 | 69,852 |
| EXPLORER | -23.30% | 15,887 | 20,714 | -4.84% | 172,130 | 180,888 |
| F-SERIES | -17.37% | 56,405 | 68,259 | -13.16% | 523,712 | 603,090 |
| GT | -33.33% | 8 | 12 | -27.83% | 83 | 115 |
| HEAVY TRUCKS | -3.03% | 1,410 | 1,454 | -5.25% | 10,748 | 11,343 |
| MAVERICK | +123.02% | 9,233 | 4,140 | +1,213.71% | 61,035 | 4,646 |
| MUSTANG | +25.10% | 3,848 | 3,076 | -8.37% | 40,446 | 44,141 |
| MUSTANG MACH-E | +7.27% | 3,055 | 2,848 | +43.50% | 31,144 | 21,703 |
| RANGER | -44.46% | 4,009 | 7,218 | -37.06% | 50,302 | 79,924 |
| TRANSIT | +35.63% | 10,663 | 7,862 | -8.84% | 78,996 | 86,661 |
| TRANSIT CONNECT | +24.69% | 1,793 | 1,438 | +4.35% | 21,976 | 21,059 |
| FORD TOTAL | -9.81% | 151,131 | 167,572 | -2.03% | 1,468,705 | 1,499,114 |
Sales Results - October 2022 - USA - Lincoln
| MODEL | OCT 2022 / OCT 2021 | OCTOBER 2022 | OCTOBER 2021 | YTD 2022 / YTD 2021 | YTD 2022 | YTD 2021 |
| --- | --- | --- | --- | --- | --- | --- |
| AVIATOR | -7.40% | 1,976 | 2,134 | +6.04% | 18,672 | 17,608 |
| CORSAIR | +2.17% | 2,590 | 2,535 | +17.03% | 22,867 | 19,540 |
| NAUTILUS | -45.89% | 1,330 | 2,458 | -12.15% | 18,127 | 20,634 |
| NAVIGATOR | +8.51% | 1,300 | 1,198 | -22.28% | 10,450 | 13,445 |
| LINCOLN TOTAL | -13.78% | 7,196 | 8,346 | -5.64% | 70,116 | 74,308 |
Sales Results - October 2022 - USA - FMC Totals
| BRAND | OCT 2022 / OCT 2021 | OCTOBER 2022 | OCTOBER 2021 | YTD 2022 / YTD 2021 | YTD 2022 | YTD 2021 |
| --- | --- | --- | --- | --- | --- | --- |
| FORD TOTAL | -9.81% | 151,131 | 167,572 | -2.03% | 1,468,705 | 1,499,114 |
| LINCOLN TOTAL | -13.78% | 7,196 | 8,346 | -5.64% | 70,116 | 74,308 |
| FMC USA TOTAL | -10.00% | 158,327 | 175,918 | -2.20% | 1,538,821 | 1,573,422 |
About The Numbers
Further Reading & Sales Reporting
Running Ford Motor Company sales numbers
Ford Motor Company Q4 2022 sales reports:

Ford Motor Company sales Q4 2022 U.S.A

Ford sales Q4 2022 U.S.A. (Ford brand)
Lincoln sales Q4 2022 U.S.A.
Ford Motor Company sales October 2022 U.S.A. (this page)

Ford sales October 2022 U.S.A. (Ford brand)
Lincoln sales October 2022 U.S.A.

Ford Motor Company sales November 2022 U.S.A.

Ford sales November 2022 U.S.A. (Ford brand)
Lincoln sales November 2022 U.S.A.

Ford Motor Company sales December 2022 U.S.A.

Ford sales December 2022 U.S.A. (Ford brand)
Lincoln sales December 2022 U.S.A.

Ford Europe sales Q4 2022
Ford China sales Q4 2022
Ford Motor Company Canada sales Q4 2022

Ford Canada sales Q4 2022
Lincoln Canada sales Q4 2022

Ford Motor Company Argentina sales Q4 2022
Ford Motor Company Brazil sales Q4 2022
Ford Motor Company Korea sales Q4 2022

Ford Motor Company Korea sales October 2022

Ford Korea sales October 2022
Lincoln Korea sales October 2022

Ford Motor Company Korea sales November 2022

Ford Korea sales November 2022
Lincoln Korea sales November 2022

Ford Motor Company Korea sales December 2022

Ford Korea sales December 2022
Lincoln Korea sales December 2022

Ford Motor Company Mexico sales Q4 2022

Ford Motor Company Mexico sales October 2022

Ford Mexico sales October 2022
Lincoln Mexico sales October 2022

Ford Motor Company Mexico sales November 2022

Ford Mexico sales November 2022
Lincoln Mexico sales November 2022

Ford Motor Company Mexico sales December 2022

Ford Mexico sales December 2022
Lincoln Mexico sales December 2022

Ford Russia sales Q4 2022

Ford Russia sales October 2022
Ford Russia sales November 2022
Ford Russia sales December 2022