With Ford investing billions as it aims to produce two million EVs annually by 2026, the automaker isn't just rolling out new electric vehicles in the coming years – it's also working overtime to secure the raw materials it needs to do so from a variety of sources. However, the EV transition is also heavily reliant on infrastructure, and Ford's third-party charging networks have experienced some well-documented issues in recent months, which even CEO Jim Farley himself has addressed publicly. Regardless, the company's charging network apparently almost got a very unusual name – Fastor Charge (instead of "Faster" Charge, interestingly enough) – but FoMoCo ultimately decided against it.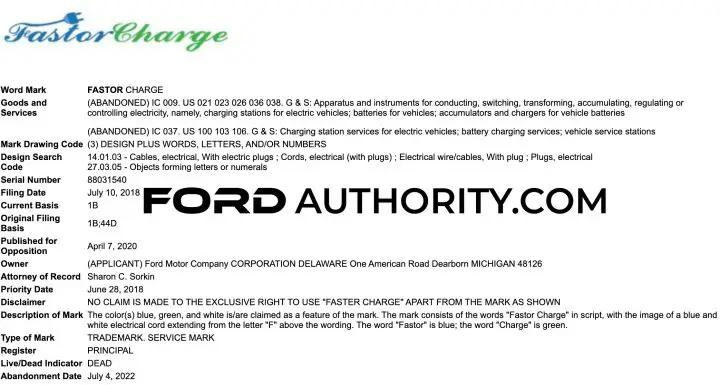 This news has come to light recently as some outlets have reported on a trademark filing from Ford back on July 10th, 2018, for the term "Fastor Charge," which was filed under the goods and services categories of "apparatus and instruments for conducting, switching, transforming, accumulating, regulating, or controlling electricity, namely, charging stations for electric vehicles; batteries for vehicles; accumulators and chargers for vehicle batteries," and "charging station services for electric vehicles; battery charging services; vehicle service stations."
The patent even included a logo for Fastor Charge that is styled to look like the Ford Motor Company script of yore, as can be seen above. However, there is one big caveat worth noting here that other outlets did not – Ford abandoned this patent filing on July 4th, 2022, which means that it ultimately decided not to do anything with the name. As such, the whole story about Ford's desire to name its charging network Fastor Charge is essentially much ado about nothing.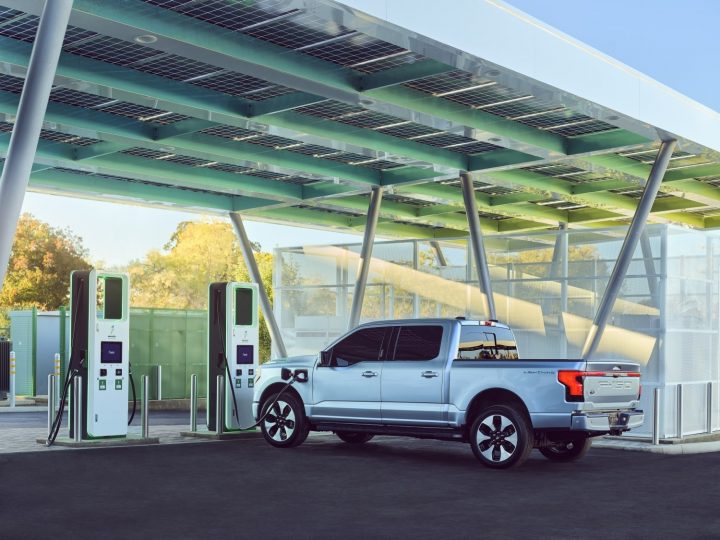 Meanwhile, Ford is making progress in its goal to expand not only its charging network – but also EV production – significantly in the coming years, as it just announced this morning that 150,000 Ford Mustang Mach-E crossovers have been built to date. The automaker is also working to build a host of new EV and battery production facilities including BlueOvalSK Battery Park and BlueOval City, as well as converting existing plants for EV production, including the Oakville Assembly plant, Cologne Assembly plant, and Valencia Assembly plant, to name just a few.
We'll have more on Ford's EV plans soon, so be sure and subscribe to Ford Authority for 24/7 Ford news coverage.