Ford has a long tradition of participating in Thanksgiving Day festivities, using its vehicles to power floats that take part in America's Thanksgiving Parade in Detroit, creating its own floats, and even bringing along a variety of Ford Bronco models to show off to adoring crowds. Now, that tradition will continue – once again at America's Thanksgiving Parade – as the automaker has teamed up with The Parade Company to create a brand new float called "Powering the Community."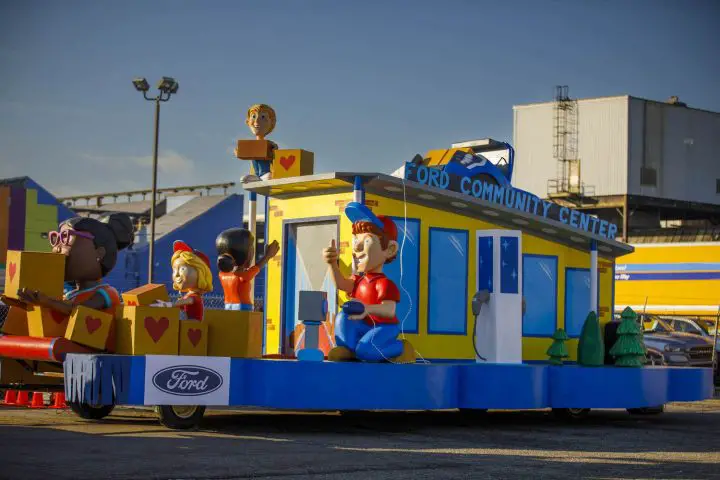 Designed and built by artists at The Parade Company, Powering the Community is over 100 feet long and features a replica of Michigan Central Station, while the middle section demonstrates how Ford plans to activate spaces for the community in and around that rejuvenated historical site. In the rear, the third section of the float showcases the important role Ford's community centers play in providing access to food and other essential resources for local neighborhoods in Detroit.
The community center present on the float is powered by a replica Ford F-150 Lightning pickup, tips up to 24 feet off the ground, and has boxes of food being distributed out of its frunk. The moving lights along the float's bridge represent the flow of electricity and power source the EV pickup can provide. The people carrying boxes throughout the float represent the thousands of Ford employees that help distribute food and volunteer in communities in the city and across Metro Detroit each year.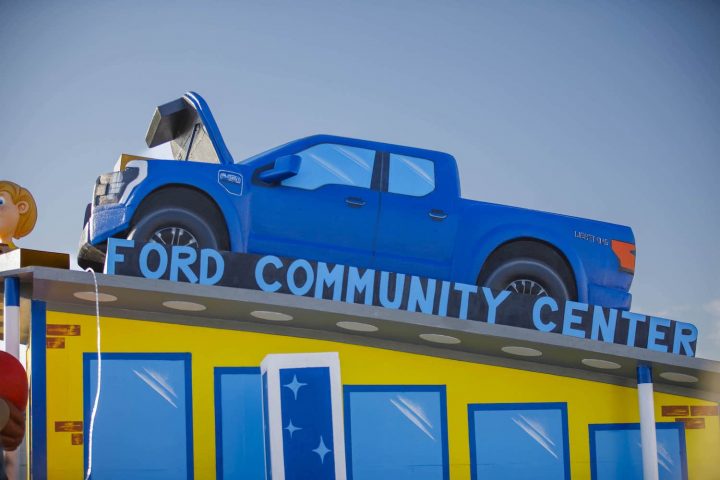 "Ford Motor Company is an amazing community partner from every aspect imaginable, and a remarkable supporter of The Parade Company and America's Thanksgiving Parade presented by Gardner White," said Tony Michaels, President and CEO of The Parade Company. "We worked with Ford on the design and our amazing artisans brought it to life to capture Ford's powerful community impact and innovation – from Michigan Central to the F-150 Lightning. It is a thrill and honor to unveil this new float with Ford today."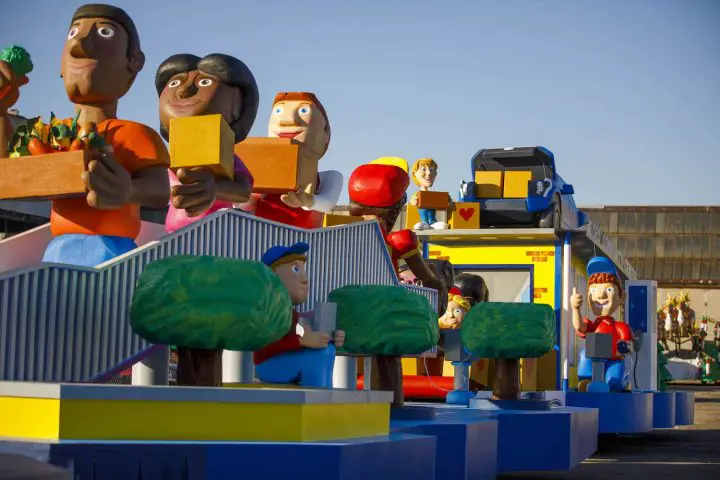 "Building and supporting community here in our hometown has always been a top priority for Ford and we are proud to partner with The Parade Company on important Detroit traditions like America's Thanksgiving Day Parade," said Mary Culler, President of Ford Motor Company Fund. "We are particularly excited to be debuting an all-new float this year. The float showcases Ford's commitment to 'Powering the Community' – not only with our exciting new products, of course, but in the many ways we are driving impact and investing in communities here in Detroit."
We'll have more on Ford's Thanksgiving plans soon, so be sure and subscribe to Ford Authority for 24/7 Ford news coverage.