Lego and Ford have long enjoyed a strong relationship, offering kids of all ages brick-like Blue Oval builds and the capability to do so from scratch, featuring models like the Ford GT, the 2021 Ford Bronco SUV, Ford Mustang Shelby GT500, and the 2022 Ford Maverick compact pickup. Now, the Legoland resort in Florida has added something a bit larger, as well as a bit cooler, arguably – a full-scale 2022 Ford F-150 Lightning Lego pickup that's made entirely from those square bricks that we love to play with and hate to step on.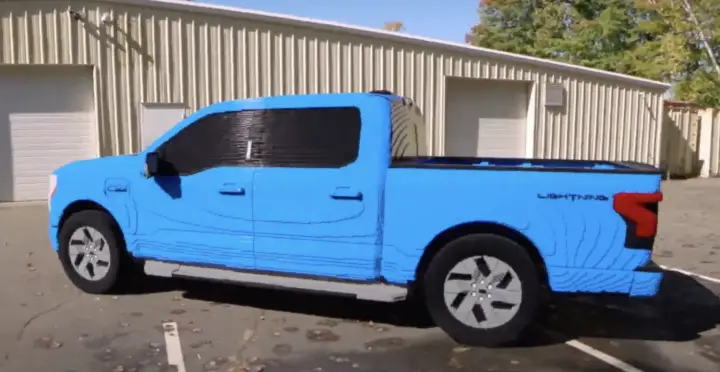 In the short video below, we're treated to a pretty amazing yet brief look at how this massive 2022 Ford F-150 Lightning Lego recreation was made, from the ground up. The team started out by creating plans for the plastic hauler on a computer, then proceeded to build a "frame" on a massive table, with multiple team members chipping in. Once the outer shell of the frame was completed, it was then mated to actual steel tubing to support all of the weight that goes on top.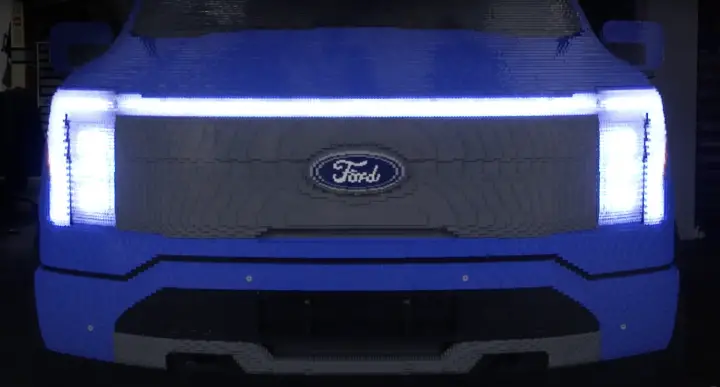 Piece by piece, this big brick truck came to life, with things like the wheels and tires being built separately and then mounted later on. Once it was a "rolling chassis" of sorts, the Lego Lightning's body could then be built from the bottom up, as we can see in this cool time lapse clip. Heck, it even has a functional LED light bar, just like the real thing.
It's pretty clear that a ton of work – as well as a lot of Lego pieces – went into creating this cool full-scale Lightning replica, not to mention man hours. In fact, it took a whopping 1,600 hours to put together, as well as 320,740 bricks. The end result tips the scales at 3,730 pounds – quite a bit lighter than the real thing, but rather hefty, nonetheless. Those that want to see this cool giant toy can do so now, as it's already on display at Legoland Florida for visitors to check out up close.
We'll have more on the F-150 Lightning soon, so be sure and subscribe to Ford Authority for the latest Ford F-Series news, Ford F-150 news, F-150 Lightning news, and comprehensive Ford news coverage.