Superformance is known for its high-quality, fully functional replicas of famous Blue Oval race cars. Vehicles built by the company were prominently featured in Ford v Ferrari, lending a healthy dose of reality to the film with its accurate reproduction cars. Now, the custom automaker recently pulled the veil off yet another special vehicle at SEMA 2022: a Superformance Ford GT40 with livery meant to pay tribute to Mario Andretti.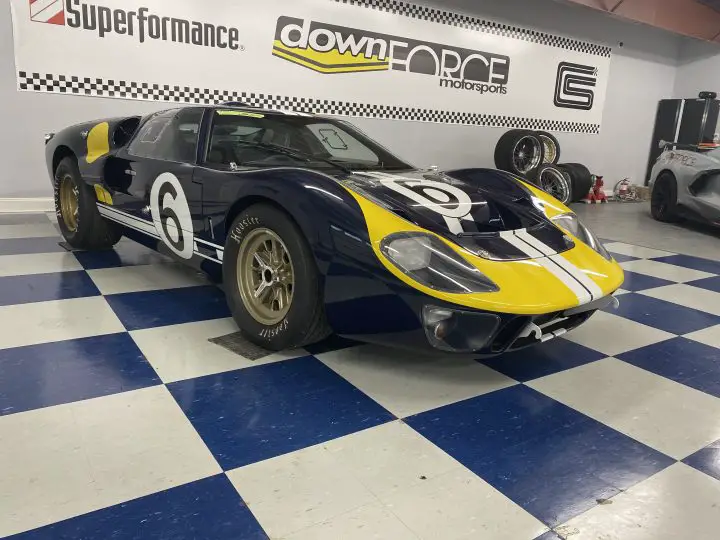 This special Ford GT40 MKII was built to honor the race car driven by none other than Mario Andretti at Le Mans in 1966 and is part of Superformance's "Spirit of '66" collection. Its blue and yellow livery is a throwback to that iconic No. 6 race car, which served as Andretti's steed for his first-ever start at the 24 Hours of Le Mans. Though Andretti's day was ended early due to engine problems under the hood of the GT40 race car, that start paved the way for seven more in the iconic endurance race throughout his career.
The Superperformance Ford GT40 was specially commissioned by Downforce Motorsports, which is a dealer for vehicles built by the custom automaker. Downforce Motorsports worked alongside RPG Racing Engines to develop the Ford 5.2L V8 Voodoo package found under the hood of this custom race car replica, good for 650 horsepower.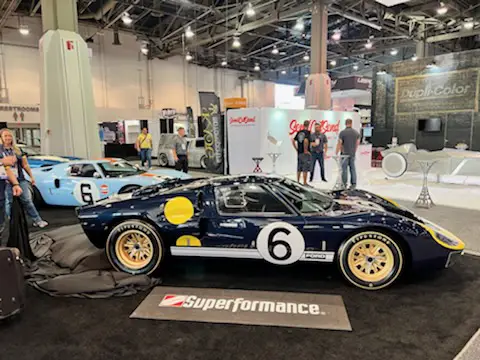 "While the livery of this car honors the tremendous legacy of a GT40 raced five decades ago, our 'Spirit of '66' prototype was also our dealership's rolling testbed for some of the best V8 technology in the world today" said Dan Long, CEO of Downforce Racing. "One of the most exciting aspects of the continuation Superformance GT40 is the flexibility to customize and modernize the car. Our SEMA 2022 car features a new 5.2L V8 built exclusively for us. This amazing engine totally transforms the car, allowing the driver to truly accelerate their life."
While The Blue Oval didn't have an official presence at SEMA 2022, there were a few neat Ford machines on display alongside the GT40, including the 1967 Ford Mustang "Eleanor" Hero Car made famous in Gone In 60 Seconds, as well as a custom 1969 Ford Mustang "Patriarc" built by Ringbrothers.
Want to stay up to date on all things Blue Oval? Be sure to subscribe to Ford Authority for more Ford GT40 news and around-the-clock Ford news coverage.