Ford F-150 owners seeking upgrades for their pickup have plenty to choose from, whether they're scoping out the Ford Performance catalog or one of many third-party companies that make parts and accessories for the best-selling model. Exhaust systems are one of the more popular upgrades out there, and Ford already offers several of them – a side-exit Sport exhaust, side-exit Touring model, an Extreme side-exit setup, the Extreme rear-exit exhaust system, and rear-exit Sport exhaust system. Now, yet another offering for the popular pickup has been added to the Ford Performance catalog – the brand new 2021-2023 Ford F-150 rear-exit Touring exhaust system.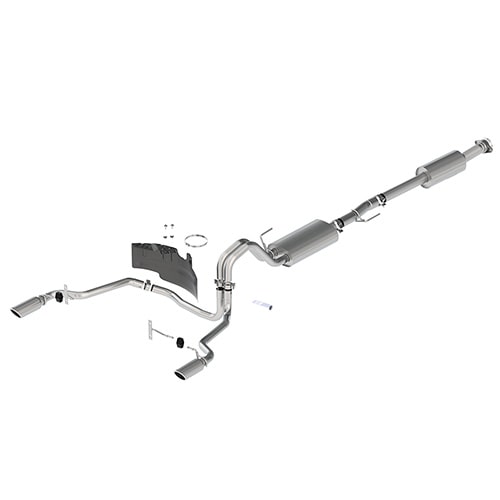 The 2021-2023 Ford F-150 rear-exit Touring exhaust is available in two different flavors – one with chrome tips, which is sold under part number M-5200-FTCR, and another with black tips, listed under M-5200-FTBR. Regardless of which system one choose to go with, the price is the same – $1,980 – and the two exhaust systems are otherwise identical in every conceivable way.
These new Touring rear-exit exhaust systems are compatible with all 2021-2023 Ford F-150 models equipped with either the Ford 2.7L V6 EcoBoost, Ford 3.5L V6 EcoBoost, or Ford 5.0L V8 Coyote engines – not the Ford 3.5L V6 PowerBoost hybrid, however. They're also compatible with trucks sporting a 145″ or 157″ wheelbase, though they won't fit models with a 122″ or 141″ wheelbase. However, the 157″ option requires the use of a mid-pipe extension sold under part number M-5248-FEXT.
Constructed from 304 stainless steel, Ford's Touring F-150 exhaust systems are designed and tuned to provide an aggressive and throaty high-performance sound. The dual rear exit setup features four-inch exhaust tips and is designed by the automaker specifically to fit these trucks, so quality should be top notch, making it a great way to unleash some extra sound from our pickups.
We'll have more new parts and accessories to share soon, so be sure and subscribe to Ford Authority for the latest Ford F-Series news, Ford F-150 news, and ongoing Ford news coverage.