As is the case with the rest of the world, Ford deliveries in Australia have faced their fair share of challenges in recent years, many of them stemming from supply chain disruptions. The Ford Escape was hampered by the chip shortage in that country a few months ago, while the outgoing Focus and Fiesta ST hot hatches sold out rather quickly as well. Then there's the brand new Ford Everest and Ford Ranger, both of which have been in high demand and short supply since each launched months ago. Now, it seems as if a new obstacle is hampering Ford deliveries in Australia, according to Drive – biohazard concerns.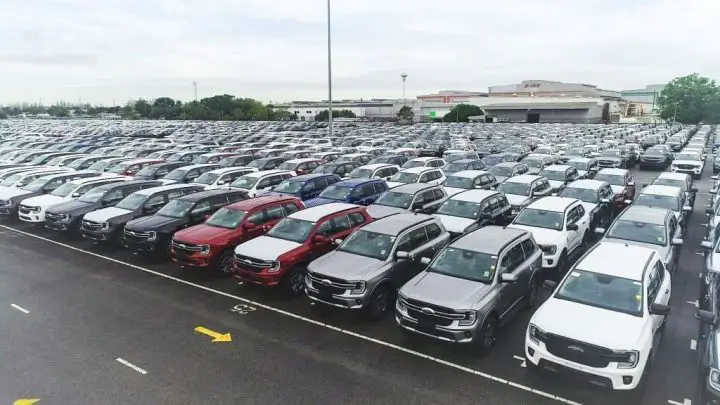 This particular problem relates to Ford vehicles produced in Thailand that are imported into Australia, a group that includes around 650 Rangers, Everests, and Escapes, which have been held up at shipping ports for quarantine inspections and cleaning as part of that country's biohazard protection program. The Blue Oval isn't alone in facing this latest delay either, as roughly 10,000 vehicles from a variety of manufacturers are also sitting at ports.
This isn't the first time Australia has faced such issues, as back in 2019, an infestation of brown marmorated stink bugs weas detected by the Department of Agriculture. This time around, the culprits are soil, plant debris, seeds, and live insects that are not present in Australia, which require some extra cleaning to remove from the imported vehicles. Officials believe that a change in shipping patterns stemming from the pandemic is to blame.
"There are several boats impacted at the moment. Currently there are four vessels quarantined with approximately 650 Ford vehicles on board, across three ports – Melbourne, Port Kembla, and Fremantle," a Ford spokesperson told Drive. "These are mostly Rangers and Everests, plus a few Escapes. Some could be cleared in a few days, but some will take a little longer. We're working through it with the authorities. We are keeping our dealer network updated as each vessel is cleared, so they can keep impacted customers updated."
We'll have more on Ford's operations from around the globe soon, so be sure and subscribe to Ford Authority for 24/7 Ford news coverage.