Veteran Ford technician Brian, perhaps better known by his YouTube alias, Ford Tech Makuloco, has certain seen his fair share of Blue Oval machines, and he often makes videos detailing his diagnostic processes to help other techs diagnose the same issues. In the past, he's detailed how to fix a rattling issue found in the Ford F-150 with the Ford 3.5L V6 EcoBoost engine, explained why he doesn't like a particular three-valve Ford 5.4L V8 Triton part, and taken viewers through the process of diagnosing starter issues in the 2006 F-150. Now, he's made a detailed video showing his method for fixing an F-150 with a heater core issue.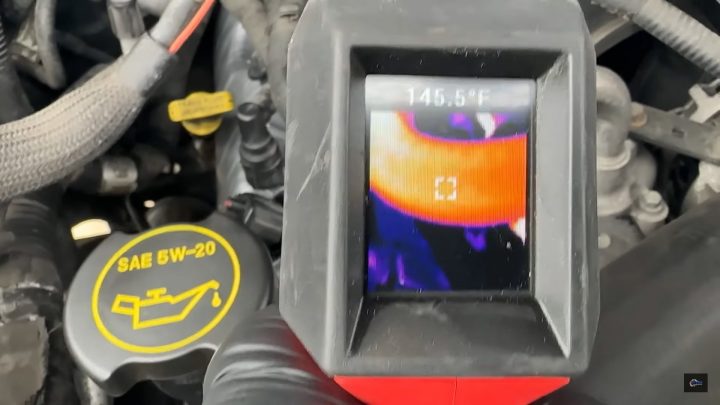 This particular pickup is presenting with a heater that's not blowing hot air, and seems to be delivering ambient air. There are quite a few pieces that must work in harmony in order to provide both cooling and heat inside a vehicle, and Brian recommends checking through all before coming to a diagnosis. He starts, of course, by measuring the temperature coming through the vents, which should be somewhere around 130 to 140 degrees Fahrenheit.
Then, he starts the Ford F-150 to ensure that the engine reaches proper operating temperature. If it does, then the temperature blend door actuator should be checked, as this can be a common point of failure. Then, he recommends going under the hood to check out the vehicle's cooling system. This particular Ford F-150 has a clogged heater core, evidenced by the cooler temperature of the coolant outlet hose coming off of the heater core. This indicates that the coolant is not circulating through the heater core properly to heat the vehicle's cab.
Brian says that this is often the result of poorly maintained coolant, and recommends either flushing the system or replacing the heater core. "Once you really flush [the cooling system,]" he says, "you want to flush it really well before you pop a new heater core in there."
We'll have more videos like this to share soon, so be sure and subscribe to Ford Authority for the latest Ford F-Series news, Ford F-150 news, and continuous Ford news coverage.