The Ford Heritage Vault – a massive online historical database containing thousands of Blue Oval photos and brochures – launched back in June and immediately crashed as traffic overloaded the site in its first few days online. Things are running much more smoothly these days, and as Ford Authority reported earlier this week, Ford's preservation efforts continue as the company just launched its brand new UK-based Heritage and Innovation Center, moving its collection of historic vehicles from Dagenham to Daventry. Now, the automaker's digital UK archives have also been added to the Ford Heritage Vault, giving those that can't make the trip to the UK a chance to check out more than 1,600 new photos and brochures from FoMoCo vehicles based in that country.
"We're opening up in a way we've never done before," said Ted Ryan, Ford archive and heritage brand manager. "Making our archives accessible for everyone online is a real passion project for me and the team. Looking back through Ford's history not only helps to educate, but can serve as inspiration as we accelerate our transformation into an all-electric and software-driven vehicle company."
The collection contains photos of every single vehicle Ford has produced in the UK, in fact, from the Anglia to the Zodiac and everything in between including the Ford Transit, Consul, Escort, Fiesta, Thames van, and much, much more. Along with these historical photos, the collection also provides access to a physical library containing brochures, owners' manuals, and advertising materials from Ford's UK history, along with various other artifacts from its expansive collection.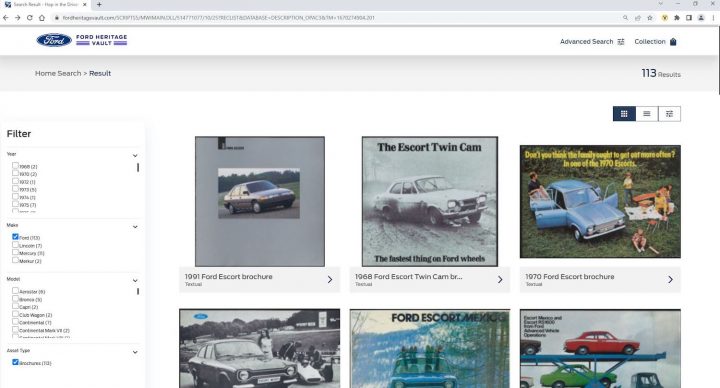 So far this year, The Blue Oval has made nearly 10,000 curated Ford and Lincoln photographs and product brochures from the first century of the company's history available to the public online for the first time, and the Ford Heritage Vault is currently seeing around 3,000 downloads per day.
We'll have more on the Ford Heritage Vault soon, so be sure and subscribe to Ford Authority for 24/7 Ford news coverage.