Back in February, FoMoCo outlined how, exactly, the new Ford Intelligent Backup Power feature would work with the Ford F-150 Lightning and the 80-amp Ford Charge Station Pro and Home Integration System. Ford Intelligent Backup Power allows owners to store up to 131 kilowatt-hours of energy and retrieve up to 9.6 kilowatts of power when equipped with the F-150 Lightning's extended range battery pack, powering a home that uses around 30 kWh of power per day for up to three days, or 10 days when paired with solar power. Now, Alex from the YouTube channel EV Buyer's Guide – who previously performed a payload test with his F-150 Lightning and compared it to the Rivian R1T – has put together a video answering fan questions about this particular feature.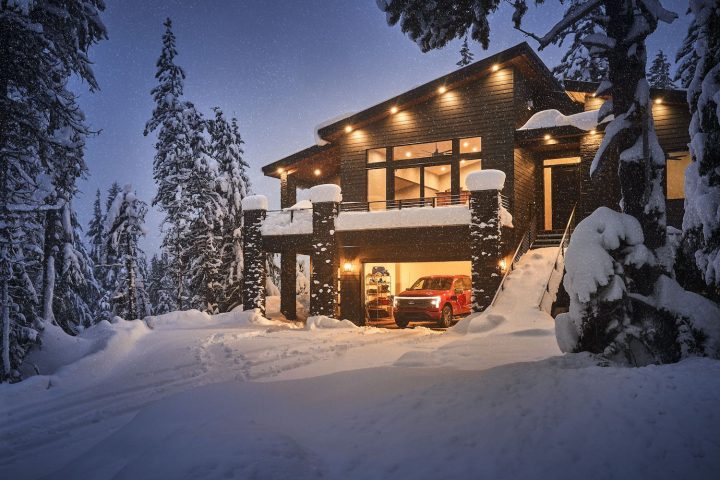 Right off the bat, Alex dispels the myth that Intelligent Backup Power uses the Lightning's inverters that are located in its bed, cabin, and frunk. However, the onboard inverters can be used to power things in one's home, at the very least. Regardless, the system does utilize an external inverter from Sunrun, which provides DC power directly from the truck's charge port.
Another interesting note here is that the Ford Charge Station Pro can charge other EVs, but only the Lightning – for now – is able to return that power to a home, as it's based on a specific voltage profile. Regardless, owners can order the Charge Station Pro and have any electrician install it, but installation isn't terribly inexpensive – in fact, in Alex's case, he received a quote for $8,900 to get it all hooked up.
Once everything is set up, owners can go into the F-150 Lightning's infotainment system and change settings such as telling the vehicle to automatically start transferring power to a home in the event of an outage, or one can also choose to do so manually. Additionally, owners can choose how much power they wish to transfer before the system shuts off, so that they can save some in the event that they might need to drive the truck later. Overall, it's an interesting system for sure, and one that more than a few people will likely find quite useful in the future.
We'll have more on the Fords Intelligent Backup Power system soon, so be sure and subscribe to Ford Authority for the latest Ford F-Series news, Ford F-150 news, F-150 Lightning news, and continuous Ford news coverage.