Ford Motor Company filed to trademark "Maverick Thunder" with the Australian Intellectual Property Office, Ford Authority has learned.
Filed on June 27th, 2022 under serial number 2282925, this application contains the goods and services description of "motor vehicles, namely, automobiles, pick-up trucks, electric vehicles in the nature of automobiles, pick-up trucks (utility vehicles), sport utility vehicles, and their structural parts."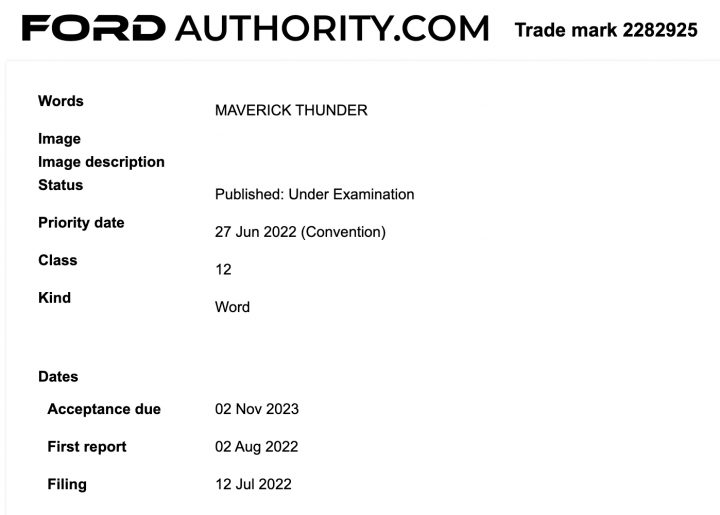 The Ford Authority Take
In filing to trademark Maverick Thunder, The Blue Oval has indicated that it is interested in expanding its compact pickup line by adding exciting new trim levels or special appearance packages. It's particularly interesting that an application for Maverick Thunder has been filed in Australia, however, considering that the pickup is not currently sold in the Oceanic country. As Ford Authority previously reported, though, Ford hasn't totally written off the possibility of bringing the Maverick to Australia. Dianne Craig, president and IMG of Ford Blue, is responsible for leading the automaker's operations in over 100 countries, and she explained that the compact pickup is still under consideration for an Australian debut.
Currently, the Ford Ranger is the only pickup with a Blue Oval badge available to buyers in Australia, although the F-150 will soon make its way to the country. It's impossible to ignore the fact that pickup sales in the country are booming, offering the perfect environment for Ford to expand its line of available vehicles that fit the bill.
Additionally, we discovered that Ford filed to trademark Maverick Thunder in Canada earlier this year, along with F-150 Thunder and Ranger Thunder. So far, though, no North American pickups have worn the "Thunder" nameplate, although the Ford Ranger Thunder was briefly offered in Europe. With that in mind, it will certainly be interesting to see what's in store for the Maverick Thunder moniker.
We'll have more on Ford's global trademark filings soon, so subscribe to Ford Authority for the latest Ford Maverick news along with comprehensive Ford news coverage.