Ford Motor Company sales decreased 7.8 percent to 146,364 units during November 2022 in the United States. Sales decreased at both FoMoCo brands, Ford and Lincoln.
"Strong order demand continues with overall retail orders for '23MY vehicles up 104 percent compared to a year ago, driven by Super Duty and Maverick," said Vice President, Ford Sales U.S. and Canada, Andrew Frick. "Super Duty took in a record 152,000 total orders since order banks opened October 27th. As the year closes out, F-Series expanded its lead to more than 117,000 trucks over its second-place competitor," he added.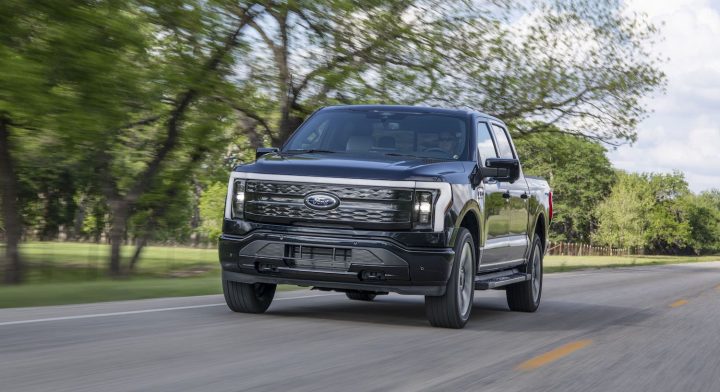 FoMoCo Sales Notes – U.S. November 2022
Sale types:
Total Ford Motor Company sales during November 2022 decreased 7.8 percent to 146,364 units

Truck sales totaled 81,210 units, down 1.2 percent total and flat at retail
SUV sales totaled 61,889 units, down 15.0 percent total and down 24.6 percent at retail
Electrified sales totaled 6,255 units, up 86 percent total and up 74.4 percent at retail

Ford continues to post record retail orders as demand for 2023MY vehicles grows

Retail orders are up 104 percent over '22MY vehicles from a year ago; orders for '23MY vehicles totaled 307,000
With one month left this year, Ford's retail share is up about one full percentage point over 2021

Ford's sales of electric vehicles expanded at approximately twice the rate of the overall electric vehicle segment in November as Ford prepares to increase production next year to meet U.S. demand. Ford electric vehicles sales increased 103 percent for the month compared to a year ago

Ford ranks No. 2 in EV sales behind only Tesla
As America's best-selling electric truck in November, F-150 Lightning sales totaled 2,062. Since its first sale at the end of May, F-150 Lightning sales totaled 13,258 trucks
The Ford E-Transit continues to lead the commercial EV industry with 80 percent market share. During the month, Ford Pro sold 654 E-Transits and 5,811 units year-to-date
Mustang Mach-E sales climbed 14.6 percent over last year on 3,539 deliveries. Mustang Mach-E global production has now topped more than 150,000

With just one month left in the year, F-Series is on track to take the truck crown again in 2022. F-Series expanded its lead as America's best-selling truck over its second-place competitor to 117,415 trucks through November

Retail orders for the new-for-2023 Super Duty topped 152,000 since the order bank opened October 27th

The Bronco family of vehicles, including Bronco and Bronco Sport, accounted for 199,026 deliveries through November – up 55.8 percent year-ove-year. Bronco is turning on dealer lots in just 10 days, with 85 percent of its retail sales coming from previously placed orders

Bronco's share of the mid-size body-on-frame SUV segment hit 33 percent last month – its highest share of segment since it was introduced last year, as it closes in on the Jeep Wrangler
Inventory & SAAR:
Ford did not provide inventory or SAAR information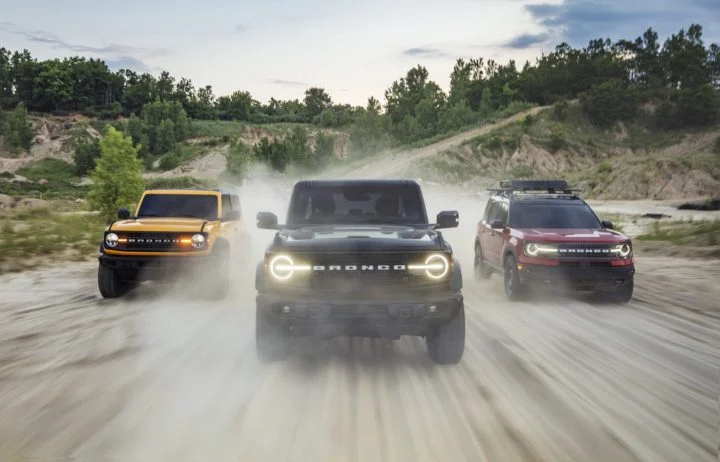 Brand & Model Sales
Ford sales decreased 7.9 percent to 140,260 units:
Lincoln sales decreased 5.0 percent to 6,104 units:
During the first 11 months of the 2022 calendar year, Ford Motor Company sales decreased 2.7 percent to 1,685,185 units.
Sales Results - November 2022 - USA - Ford
| MODEL | NOV 2022 / NOV 2021 | NOVEMBER 2022 | NOVEMBER 2021 | YTD 2022 / YTD 2021 | YTD 2022 | YTD 2021 |
| --- | --- | --- | --- | --- | --- | --- |
| BRONCO | +12.59% | 9,330 | 8,287 | +312.47% | 106,645 | 25,855 |
| BRONCO SPORT | -56.18% | 5,033 | 11,486 | -9.33% | 92,381 | 101,891 |
| E-SERIES | +7.61% | 2,982 | 2,771 | -13.26% | 28,897 | 33,316 |
| ECOSPORT | -52.90% | 836 | 1,775 | -23.98% | 28,633 | 37,667 |
| EDGE | -38.71% | 5,816 | 9,489 | +6.51% | 78,572 | 73,769 |
| ESCAPE | -5.59% | 8,893 | 9,420 | -4.86% | 128,170 | 134,711 |
| EXPEDITION | +28.86% | 5,898 | 4,577 | -27.95% | 53,623 | 74,429 |
| EXPLORER | -10.01% | 16,440 | 18,268 | -5.32% | 188,570 | 199,156 |
| F-SERIES | -8.69% | 55,169 | 60,418 | -12.75% | 578,881 | 663,508 |
| GT | -57.14% | 6 | 14 | -31.01% | 89 | 129 |
| HEAVY TRUCKS | +0.29% | 1,380 | 1,376 | -4.65% | 12,128 | 12,719 |
| MAVERICK | +188.81% | 7,457 | 2,582 | +847.59% | 68,492 | 7,228 |
| MUSTANG | -12.13% | 3,259 | 3,709 | -8.66% | 43,705 | 47,850 |
| MUSTANG MACH-E | +14.60% | 3,539 | 3,088 | +39.90% | 34,683 | 24,791 |
| RANGER | -68.89% | 2,439 | 7,839 | -39.91% | 52,741 | 87,763 |
| TRANSIT | +126.71% | 10,345 | 4,563 | -2.06% | 89,341 | 91,224 |
| TRANSIT CONNECT | -46.38% | 1,438 | 2,682 | -1.38% | 23,414 | 23,741 |
| FORD TOTAL | -7.95% | 140,260 | 152,367 | -2.57% | 1,608,965 | 1,651,481 |
Sales Results - November 2022 - USA - Lincoln
| MODEL | NOV 2022 / NOV 2021 | NOVEMBER 2022 | NOVEMBER 2021 | YTD 2022 / YTD 2021 | YTD 2022 | YTD 2021 |
| --- | --- | --- | --- | --- | --- | --- |
| AVIATOR | -1.43% | 1,652 | 1,676 | +5.39% | 20,324 | 19,284 |
| CORSAIR | +59.10% | 2,264 | 1,423 | +19.88% | 25,131 | 20,963 |
| NAUTILUS | -56.11% | 1,027 | 2,340 | -16.63% | 19,154 | 22,974 |
| NAVIGATOR | +20.19% | 1,161 | 966 | -19.43% | 11,611 | 14,411 |
| LINCOLN TOTAL | -5.01% | 6,104 | 6,426 | -5.59% | 76,220 | 80,734 |
Sales Results - November 2022 - USA - FMC Totals
| BRAND | NOV 2022 / NOV 2021 | NOVEMBER 2022 | NOVEMBER 2021 | YTD 2022 / YTD 2021 | YTD 2022 | YTD 2021 |
| --- | --- | --- | --- | --- | --- | --- |
| FORD TOTAL | -7.95% | 140,260 | 152,367 | -2.57% | 1,608,965 | 1,651,481 |
| LINCOLN TOTAL | -5.01% | 6,104 | 6,426 | -5.59% | 76,220 | 80,734 |
| FMC USA TOTAL | -7.83% | 146,364 | 158,793 | -2.72% | 1,685,185 | 1,732,215 |
About The Numbers
Further Reading & Sales Reporting
Running Ford Motor Company sales numbers
Ford Motor Company Q4 2022 sales reports:

Ford Motor Company sales Q4 2022 U.S.A

Ford sales Q4 2022 U.S.A. (Ford brand)
Lincoln sales Q4 2022 U.S.A.
Ford Motor Company sales October 2022 U.S.A.

Ford sales October 2022 U.S.A. (Ford brand)
Lincoln sales October 2022 U.S.A.

Ford Motor Company sales November 2022 U.S.A. (this page)

Ford sales November 2022 U.S.A. (Ford brand)
Lincoln sales November 2022 U.S.A.

Ford Motor Company sales December 2022 U.S.A.

Ford sales December 2022 U.S.A. (Ford brand)
Lincoln sales December 2022 U.S.A.

Ford Europe sales Q4 2022
Ford China sales Q4 2022
Ford Motor Company Canada sales Q4 2022

Ford Canada sales Q4 2022
Lincoln Canada sales Q4 2022

Ford Motor Company Argentina sales Q4 2022
Ford Motor Company Brazil sales Q4 2022
Ford Motor Company Korea sales Q4 2022

Ford Motor Company Korea sales October 2022

Ford Korea sales October 2022
Lincoln Korea sales October 2022

Ford Motor Company Korea sales November 2022

Ford Korea sales November 2022
Lincoln Korea sales November 2022

Ford Motor Company Korea sales December 2022

Ford Korea sales December 2022
Lincoln Korea sales December 2022

Ford Motor Company Mexico sales Q4 2022
Ford Russia sales Q4 2022

Ford Russia sales October 2022
Ford Russia sales November 2022
Ford Russia sales December 2022