Ford has been revising its lineup in the Middle East for months now, launching a bevy of new products there including the Ford F-150 pickup, Ford Bronco SUV, Ford Expedition SUV, and Ford Taurus sedan – which is actually just a rebadged version of the next-gen Mondeo. Following the launch of the Ford F-150 Raptor and Ford Bronco Raptor in that region, there was also just one Ford Raptor model missing from the mix – the Ford Ranger Raptor. Now that the next-gen version of that rugged mid-size pickup has arrived, it completes the trifecta for Middle Eastern consumers for the very first time – and that isn't just true of the Middle East.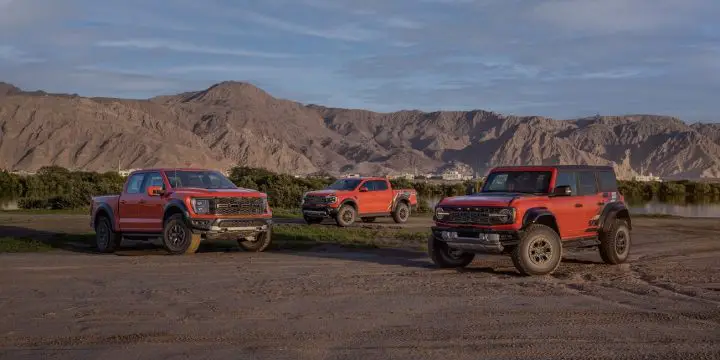 In fact, the Middle East is actually the very first region on the planet where all three Ford Raptor models are available at the same time, a historic feat indeed. However, the U.S. will join it next year when the long-awaited Ranger Raptor joins the already-on-sale F-150 Raptor and Bronco Raptor.
This Ford Raptor trio shares quite a bit in common, including heavily upgraded suspension systems utilizing Fox components, wider bodywork, a signature "Ford" script front grille, amber lighting, unique styling and graphics, and beefy off-road tires. Each has also been an undeniable success for The Blue Oval, which has seen tremendous demand as much of the world continues to favor more rugged, off-road-oriented vehicles.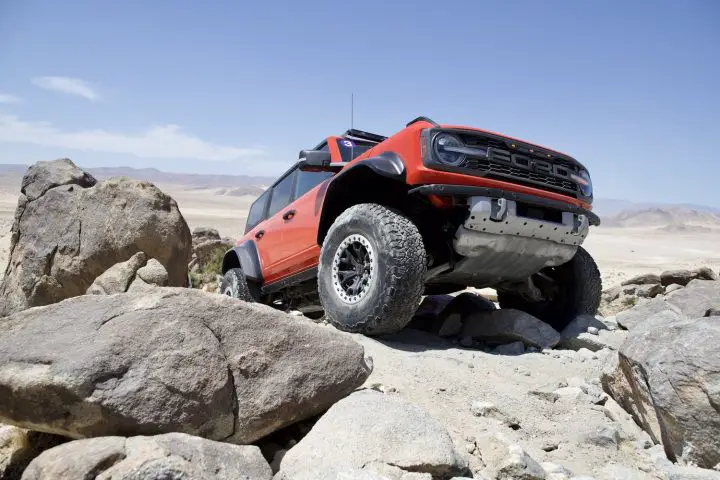 "Raptor represents the pinnacle of Ford off-roading performance, and its unique DNA unites the three distinctive nameplates," said Pedro Simões, Marketing Director, Ford Middle East. "Matching their leading off-road capability, power, and performance is a rugged, aggressive design language that accentuates an all-conquering personality. With its diverse offering of challenging terrain, the Middle East offers an ideal environment for the Raptor to roam – and as the first region to be home to all three Ford Raptors, we're proud to call it Raptor Land."
We'll have more on Ford's Raptor lineup soon, so be sure and subscribe to Ford Authority for non-stop Ford news coverage.