Professional racer and founder-owner of RTR Vehicles, Vaughn Gittin Jr., has certainly had his fair share of fun with Blue Oval vehicles. He's shown off just what his Ford Bronco Raptor can do and has already taken the 2024 Ford Mustang for a spin. He even let Ford CEO Jim Farley test-drive his Mustang Spec 5-D race car. Now, Gittin himself has once again stepped behind the wheel of his Mustang for another round of Game of Fun at his so-called Drift Mansion.
Gittin is joined by his friends Chelsea Denofa and Hert, and first, they tackle a game of "table." This consists of attempting to spin a vehicle to a halt as close as possible to a stack of boxes without knocking it over. Gittin stops about two feet away from the stack, while Denofa wheels it within 19 inches. Hert, meanwhile, taps the stack with his rear bumper, earning the worst score of three feet.
Then, the trio don a set of Hulk costume gloves and large clown shoes and make a pass at a drifting course, as the gear makes things difficult to handle. Denofa gets through the course ok with a little wobble. Hert blows through it too, and Gittin rolls up to the starting line and accomplishes the course no problem. Hertz, however, is declared winner.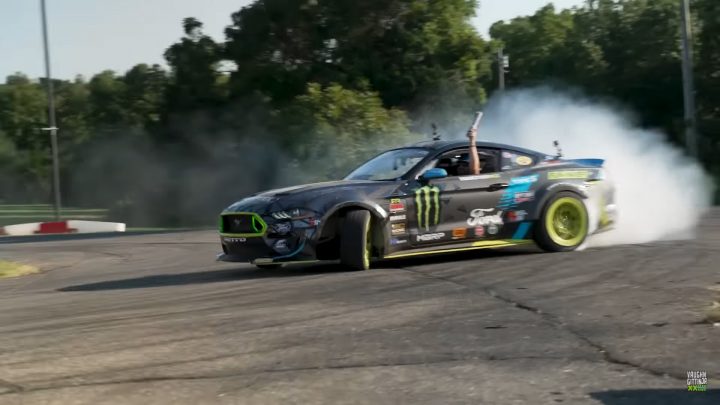 A game of "paper boy" ensues, in which the drivers much pitch a rolled-up newspaper as close to the target on the front porch as possible while drifting. Unfortunately, Gittin was eliminated by this challenge, while Hert and Denofa move on to take the final challenge: soccer.
After several passes, Denofa uses the broadside of his Ford Mustang to knock the giant soccer ball into the "goal," and secures the day's victory.
Want the latest on all things Blue Oval? Be sure and subscribe to Ford Authority for more Ford Mustang news and ongoing Ford news coverage.