Ford CEO Jim Farley accepted his position a couple of years ago with at least one stipulation – the longtime car enthusiast would be able to continue his racing hobby, something that he's been doing for quite a few years now. Aside from driving his own vehicles to various vintage racing wins, Farley has also spent some time behind the wheel of the new Ford Pro Electric Supervan and the Ford Puma Rally1 racer, to name just a couple. The Ford CEO isn't the only one taking cool Blue Oval rides out for a spin before most of us, however, as Vaughn Gittin Jr. recently took delivery of his Ford Bronco Raptor and immediately put it to the test, while also ripping off some donuts in a 2024 Ford Mustang for a commercial shoot. Now, Jim Farley has gotten the chance to take Gittin Jr.'s Mustang Spec 5-D racer out for a rip, too.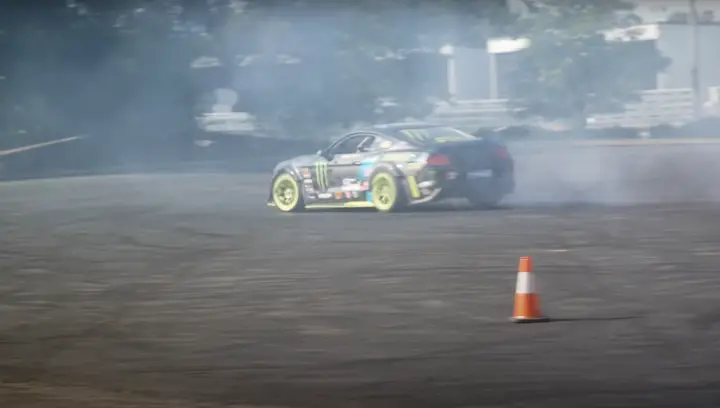 Obviously, Farley has quite a bit of wheel time in all kinds of fast machines, but he isn't quite as well versed in the art of drifting. Thus, Gittin Jr. gives the auto exec a quick five minute lesson on how to get sideways and melt the tires on his pro drift pony car, and that's about all it takes before Farley is sliding around like a pro.
Gittin Jr. certainly came away impressed with his effort, noting that "it's really cool to see him driving the car with the throttle and getting aggressive with it." Farley also walked away mighty impressed with the Mustang racer itself. "Wow, that was exciting," he said. "My heart rate was like, through the roof. It's really high right now, like 135."
When it's all said and done, Gittin Jr. suggests that Farley might have a future in Formula Drift, but the CEO shoots him down immediately, saying "no thank you" to that request. However, we suppose it's always good to have a backup plan, just in case one's current career doesn't pan out, and it seems like Farley is a natural at the art of drifting if he ever chooses to pursue it professionally.
We'll have more on Jim Farley soon, so be sure and subscribe to Ford Authority for continuous Ford news coverage.