In the past, Hennessey Performance has undertaken the challenge of turning the already aggressive Ford F-150 Raptor into a 6×6 machine, answering the call for six-wheel-drive for a pretty penny. The aftermarket performance company also took on the mean Ford F-150 Raptor R, beefing it up and calling it the VelociRaptor 1000, thanks to its impressive 1,000 horsepower output. While the latter version of the F-150 Raptor R rides on a traditional set of four wheels rather than six, Ford Authority couldn't help but wonder what the high-performance midsize pickup would look like in 6×6 form right from the factory. So, here it is: our completely hypothetical 2023 Ford F-150 Raptor R 6×6.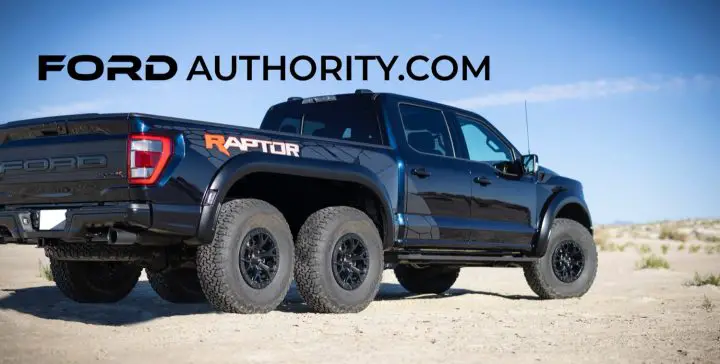 Our make-believe F-150 Raptor R 6×6 features an extended bed to accommodate the extra axle, along with a lengthened fender well to give both sets of rear wheels ample room. Of course, this also means that more storage is available for off-roading goodies in the bed. In fact, the pickup's length renders it unable to fit in the photo's bounds anymore. The special Raptor R fractal graphics on the pickup's bedsides have also been expanded, just to ensure it retains its exclusive Raptor styling cues.
Six-wheel-drive offers a bit more traction and better weight distribution than a simple four-wheel-drive machine, making this F-150 Raptor R 6×6 ready to dig in and rocket out of adverse driving conditions that may leave other vehicles quite literally spinning their wheels. The supercharged Ford 5.2L V8 of the real-life Raptor R already makes a whopping 700 horsepower and 640 pound-feet of torque, although a power upgrade may be warranted to move the extra weight on our hypothetical 6×6 thanks to its extra axle.
Ford Authority often reimagines real-life Blue Oval machines as ludicrous off-road-ready variants, and we'd like to think that this F-150 Raptor R 6×6 would fit right in with the herd alongside our hypothetical off-road seventh-generation Ford Mustang, our Ford Everest Raptor off-road SUV, and our off-road-capable Lincoln Aviator.
Subscribe to Ford Authority for more Ford F-Series news, Ford F-150 news, Ford F-150 Raptor news and continuous Ford news coverage.