In recent months, quite a few Hollywood-famous Blue Oval models have been immortalized in die-cast form, including the 1993 Ford Explorer from Jurassic Park, the 1986 Ford Taurus from Tommy Boy, and the 1979 Ford Mustang that starred in the TV show Charlie's Angels. Now, that lineup has once again expanded to include this – the 1974 Ford Falcon XB from Mad Max, which has just been revealed by Greenlight Collectibles in 1:18 scale form.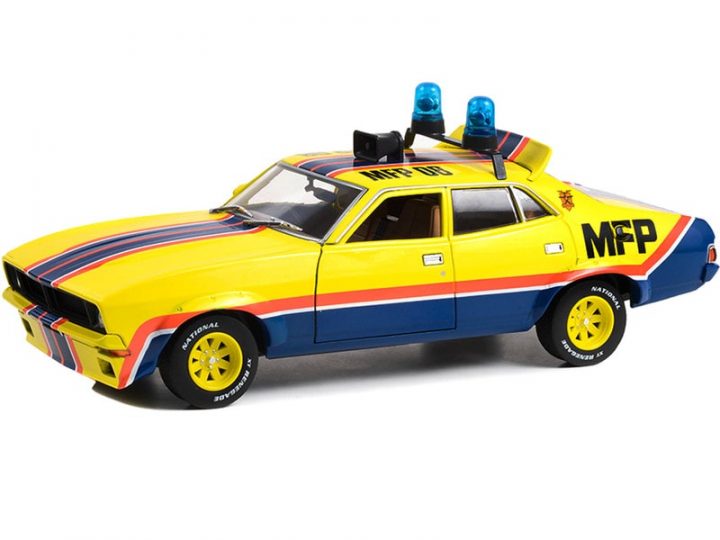 This 1974 Ford Falcon XB four-door is a limited-edition model with rubber tires, steerable wheels, an opening hood, doors, and trunk, and quite a few details not only on the outside, but also via fully adorned cabin and engine compartment. An officially licensed product, this movie-inspired collectible is made of die-cast with some plastic parts to finish it off, and will retail for $74.99 when it launches – which is expected to happen at some point in May or June.
The Australian version of the Falcon was a common sight in the Mad Max movies series, as it was the main vehicle used by the Main Force Patrol as a patrol, pursuit, and interceptor model. Quite a few MFP officers – including Max Rockatansky – drive Falcons in the first movie, many of which are destroyed during a pursuit. Additionally, some earlier Falcon models are featured in a few other scenes, including a 'ute towing a camper.
The Ford Falcon was produced by Ford Australia from 1973 to 1976.

Check out the DECO sample photo for upcoming Item #13675 1:18 First of the V8 Interceptors (1979) – Roop and Charlie's 1974 Ford Falcon XB 4-Door Sedan M.F.P. #08 – Big Bopper XB Police Pursuit

May 2023 pic.twitter.com/gHWmpPhGRu

— GreenLight Collectibles (@GLCollectibles) January 19, 2023
The Falcon returned for Mad Max 2, once again serving as Rockatansky's main vehicle before it's destroyed, while another two-door model is featured in a scene where Lord Humungus' Marauders try to steal fuel from a refinery. That trend soldiered on with the modern remake – Mad Max: Fury Road, which features yet another Falcon XB, continuing a tradition that began when the originally movie debuted way back in 1979.
We'll have more cool die-cast models like this to share soon, so be sure to subscribe to Ford Authority for the latest Ford Falcon news and around-the-clock Ford news coverage.