Back in August 2021, work began at the Ford Cologne Assembly plant in Germany as the automaker invests $1 billion in transforming that site into the Ford Cologne Electrification Center, which will produce all-electric vehicles moving forward. Work at the site is still ongoing, but a major piece of that proverbial puzzle has just been added – a massive steel structure that's part of a new bridge being installed at the plant's paint shop.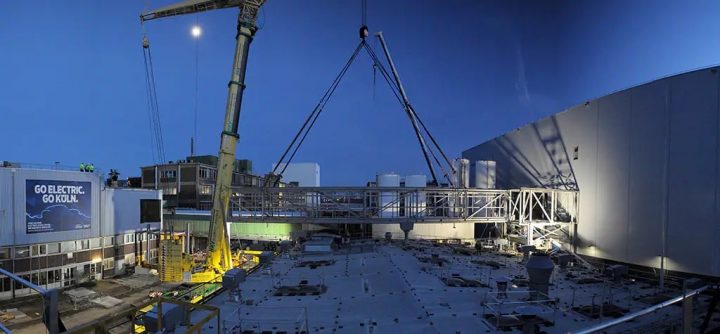 The gigantic 12-meter long and 4.8-meter wide piece was lowered into place by a 500-ton capacity crane – a process that took three hours to complete, but it's just the beginning of a larger project. When completed, the bridge will will connect the PTEC building (PreTreatment Electrical Coating) to Y Hall on the other side, carrying bodies from the dip coating area to the drying ovens. It's a necessary component, as the bridge is designed to accommodate wider EV models.
As Ford prepares to transition its entire European passenger vehicle lineup to EVs by 2030 or sooner, the automaker will launch seven new all-electric vehicles in that region by 2024 – including a pair of crossovers built on Volkswagen's MEB platform, which will be built at the newly revised Cologne Electrification Center.
Getting ready for the first electric passenger vehicle coming from our @Ford #Cologne manufacturing site! 68 ton bridge installed ✔ #EVs #ElectricVehicles #2023willbegreat pic.twitter.com/4F91Ne9Y8Z

— Martin Sander (@MSander22) January 6, 2023
The first of those two models – a "sport" crossover that may be called the Explorer Sport – was recently teased by The Blue Oval and is set to debut in March, after which it will enter production in late 2023. The second model is a mid-size crossover that's slated to be unveiled shortly thereafter, with production following the sport version as well. The new MEB-based EV will account for 30,000 units of the automaker's planned 600,000 EV run for this year, too.
We'll have more on the Cologne Electrification Center soon, so be sure and subscribe to Ford Authority for continuous Ford news coverage.