Myriad Ford EcoBoost engine issues have surfaced over the past several years, ranging from carbon buildup to coolant leaks in Ford's 1.5L I-4 EcoBoost, 1.6L I-4 EcoBoost, and 2.0L I-4 EcoBoost engines used in a variety of vehicles including the Ford Escape, Ford Fusion, Ford Edge, Lincoln MKC, and Lincoln MKZ, which have in turn prompted some lawsuits. Experienced Ford technician and YouTuber Ford Tech Makuloco covered some of these problems, and now another ailing Ford F-150 with the 2.7L V-6 EcoBoost appeared in his bay, but thankfully, this time it's a relatively easy fix.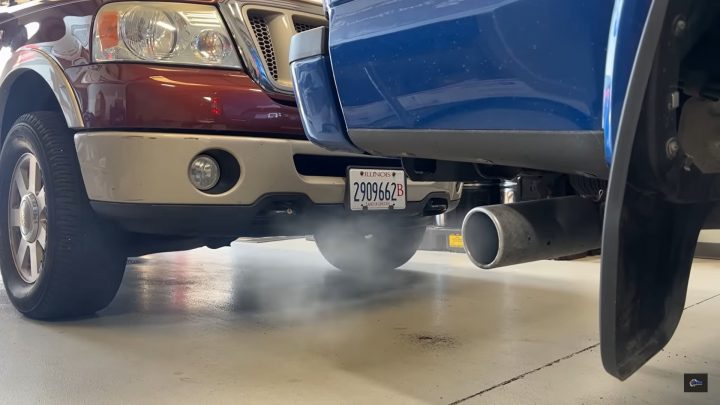 The vehicle in question presents with excessive white smoke out of the exhaust pipe on cold starts, indicating that it is burning oil after sitting overnight. According to a bulletin from Ford, replacing the oil supply tube that feeds into the driver's side turbocharger will fix the problem. This may be due to oil being allowed to enter into the left side turbo housing, which would cause it to burn up on a cold start.
The veteran technician gets his hands on a new turbo oil supply tube, and he notes that they look exactly the same; however, the supply side on the new part only has one O-ring as opposed to the two O-rings found on the original part.
Thankfully, the part is easily accessible, making it a simple part to swap out. The technician does so, then leaves the Ford F-150 to cold soak overnight. Upon startup, the vehicle does throw some steam out of its tailpipe, but the bluish smoke is gone, indicating that the pickup is no longer burning oil.
"So there you have it," the tech says. "It is a confirmed fix on the 2.7L EcoBoost engines."
We'll have more interesting videos like this to share soon, so be sure and subscribe to Ford Authority for the latest Ford F-Series news, Ford F-150 news, and continuous Ford news coverage.