FoMoCo technician and YouTuber Brian of the Ford Tech Makuloco channel has quite made quite a few videos centered around the much-maligned three-valve Ford 5.4L V8 Triton engine in recent months, covering its well-documented ticking noises and how to rectify them, as well as valve cover issues. Now, he's back with a new video discussing a common cause behind lean codes on Ford F-150 models equipped with this particular engine, too.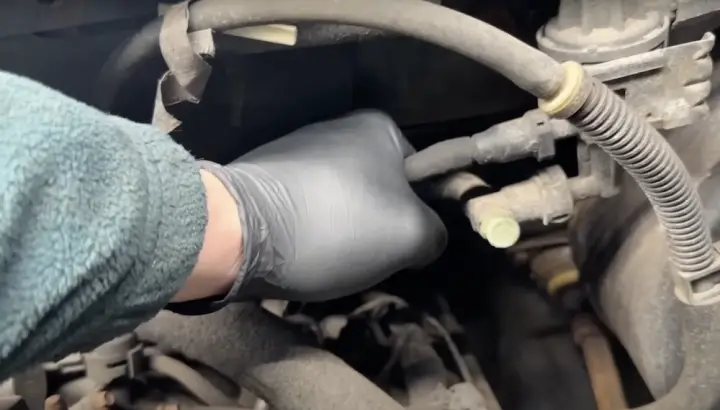 This time around, Brian has a 2006 Ford F-150 in his shop that has around 300,000 miles on the clock, though it's running a remanufactured engine, not the original powerplant. However, after that powerplant ran well for around a year, the owner started having VCT issues, which prompted him to take it to Brian for a little diagnosis. The first step in that process is to pull codes, of course, and in this case, the pickup is displaying quite a few of them.
Many of those codes can be taken with a grain of salt, as Brian explains, but he eventually zeroes in on two of them – 2195 and 2197 – which indicate that the two upstream oxygen sensors are stuck lean. Thus, he clears the codes and attempts to recreate the customer's concern, which results in a shaking engine and a hissing noise that indicates that there's a large vacuum leak. As such, the PCM cannot compensate for the leak, which means that the oxygen sensors are staying in low voltage, indicating that they're running lean.
Thus, all that's left to do is find the source of the vacuum leak, which in this case is pretty obvious – it's coming from a brake vacuum tube, which is a common source of leaks on this particular engine. By simply placing his hand over the tube, Brian immediately notices that the engine is running far better right off the bat, making this a relatively inexpensive and easy repair – for once, at least.
We'll have more videos like this to share soon, so be sure and subscribe to Ford Authority for the latest Ford F-Series news, Ford F-150 news, and continuous Ford news coverage.