Ford Motor Company sales increased three percent to 179,279 units during December 2022 in the United States. Sales increased at both FoMoCo brands, Ford and Lincoln.
"Much was accomplished in 2022, with Ford increasing its share of the industry by 0.7 percentage points," said Vice President, Ford Sales U.S. and Canada, Andrew Frick. "Delivering on our strategy, share expansion came from broad-based growth from our SUV lineup and our all-new EVs growing at twice the rate of the overall EV segment. F-Series was America's best-selling truck for the 46th consecutive year, outselling our second-place competitor by over 140,000 trucks, and the Bronco family of vehicles increased 51.3 percent. With a strong retail order bank, Ford is well positioned heading into 2023," he added.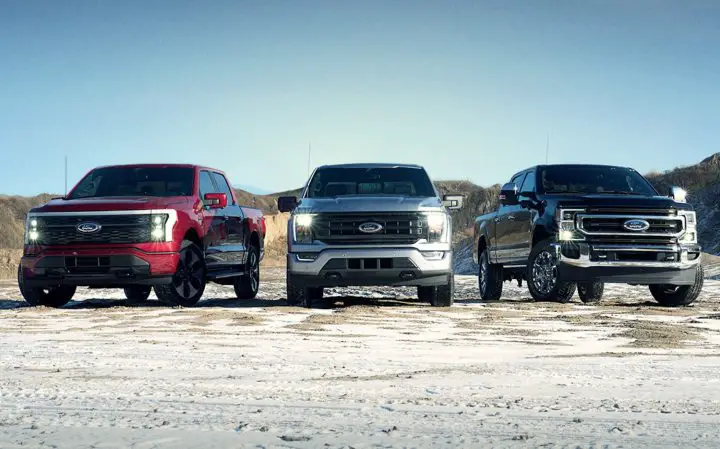 FoMoCo Sales Notes – U.S. – December 2022
Sale types:
Total Ford Motor Company sales during December 2022 increased 3 percent to 179,279 units

Truck sales totaled 101,649 units, up 10.9 percent total and up 6.4 percent at retail
SUV sales totaled 73,759 units, down 4.7 percent total and down 8.7 percent at retail
Electric vehicle sales totaled 7,823 units, up 222.6 percent total and up 178.4 percent at retail

Ford F-Series sales finished the year with its best monthly sales performance of the year in December with 75,076 trucks sold

F-Series share of the full-size pickup segment continued to expand – up 1.2 percentage points in December over last year with 35.6 percent of the segment
Positioning truck sales well for the new year, total orders for the all-new 2023 Super Duty now exceed 245,000 trucks

Ford EV sales were up 223 percent for December, consolidating its position as the second-largest brand of electric vehicles in the U.S.

The F-150 Lightning was the No. 1 electric truck in America in December and the best-selling electric truck in the U.S. since its launch in May with 15,617 electric trucks sold
Mustang Mach-E sales climbed 103 percent in December on sales of 4,775 SUVs

With improved inventory flow, Lincoln SUVs finished the year strong, with sales up 18.0 percent in December of a year ago on strong Navigator and Corsair sales
Inventory & SAAR:
Ford did not provide inventory or SAAR information, representing a notable change in the details provided by Ford for its sales reporting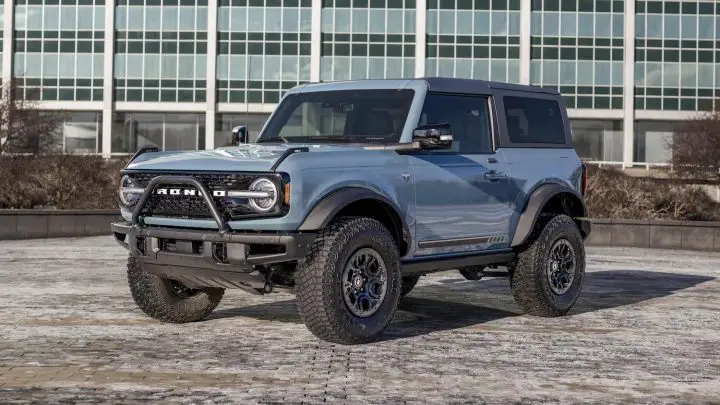 Brand & Model Sales
Ford sales increased 2.7 percent to 172,013 units:
Lincoln sales increased 17.3 percent to 7,266 units:
During the complete 2022 calendar year, Ford Motor Company sales decreased two percent to 1,864,464 units.
Sales Results - December 2022 - USA - Ford
| MODEL | DEC 2022 / DEC 2021 | DECEMBER 2022 | DECEMBER 2021 | YTD 2022 / YTD 2021 | YTD 2022 | YTD 2021 |
| --- | --- | --- | --- | --- | --- | --- |
| BRONCO | +13.57% | 10,412 | 9,168 | +234.23% | 117,057 | 35,023 |
| BRONCO SPORT | +14.14% | 7,166 | 6,278 | -7.97% | 99,547 | 108,169 |
| E-SERIES | -14.53% | 3,253 | 3,806 | -13.39% | 32,150 | 37,122 |
| ECOSPORT | -81.28% | 560 | 2,992 | -28.20% | 29,193 | 40,659 |
| EDGE | -39.83% | 6,893 | 11,456 | +0.28% | 85,465 | 85,225 |
| ESCAPE | -14.05% | 9,200 | 10,704 | -5.53% | 137,370 | 145,415 |
| EXPEDITION | +10.91% | 8,384 | 7,559 | -24.37% | 62,007 | 81,988 |
| EXPLORER | -7.78% | 19,103 | 20,715 | -5.55% | 207,673 | 219,871 |
| F-SERIES | +20.13% | 75,076 | 62,496 | -9.92% | 653,957 | 726,004 |
| GT | -28.57% | 10 | 14 | -30.77% | 99 | 143 |
| HEAVY TRUCKS | -4.86% | 1,411 | 1,483 | -4.67% | 13,539 | 14,202 |
| MAVERICK | -2.52% | 5,878 | 6,030 | +460.94% | 74,370 | 13,258 |
| MUSTANG | -15.40% | 3,861 | 4,564 | -9.25% | 47,566 | 52,414 |
| MUSTANG MACH-E | +103.28% | 4,775 | 2,349 | +45.39% | 39,458 | 27,140 |
| RANGER | -39.02% | 4,264 | 6,992 | -39.84% | 57,005 | 94,755 |
| TRANSIT | +17.84% | 10,041 | 8,521 | -0.36% | 99,382 | 99,745 |
| TRANSIT CONNECT | -27.20% | 1,726 | 2,371 | -3.72% | 25,140 | 26,112 |
| FORD TOTAL | +2.67% | 172,013 | 167,545 | -2.09% | 1,780,978 | 1,819,026 |
Sales Results - December 2022 - USA - Lincoln
| MODEL | DEC 2022 / DEC 2021 | DECEMBER 2022 | DECEMBER 2021 | YTD 2022 / YTD 2021 | YTD 2022 | YTD 2021 |
| --- | --- | --- | --- | --- | --- | --- |
| AVIATOR | +0.79% | 1,653 | 1,640 | +5.03% | 21,977 | 20,924 |
| CORSAIR | +49.81% | 2,737 | 1,827 | +21.40% | 27,668 | 22,790 |
| NAUTILUS | +0.82% | 1,481 | 1,469 | -15.58% | 20,635 | 24,443 |
| NAVIGATOR | +30.74% | 1,595 | 1,220 | -15.51% | 13,206 | 15,631 |
| LINCOLN TOTAL | +17.29% | 7,266 | 6,195 | -3.96% | 83,486 | 86,929 |
Sales Results - December 2022 - USA - FMC Totals
| BRAND | DEC 2022 / DEC 2021 | DECEMBER 2022 | DECEMBER 2021 | YTD 2022 / YTD 2021 | YTD 2022 | YTD 2021 |
| --- | --- | --- | --- | --- | --- | --- |
| FORD TOTAL | +2.67% | 172,013 | 167,545 | -2.09% | 1,780,978 | 1,819,026 |
| LINCOLN TOTAL | +17.29% | 7,266 | 6,195 | -3.96% | 83,486 | 86,929 |
| FMC USA TOTAL | +3.19% | 179,279 | 173,740 | -2.18% | 1,864,464 | 1,905,955 |
About The Numbers
Further Reading & Sales Reporting
Running Ford Motor Company sales numbers
Ford Motor Company Q4 2022 sales reports:

Ford Motor Company sales Q4 2022 U.S.A

Ford sales Q4 2022 U.S.A. (Ford brand)
Lincoln sales Q4 2022 U.S.A.
Ford Motor Company sales October 2022 U.S.A.

Ford sales October 2022 U.S.A. (Ford brand)
Lincoln sales October 2022 U.S.A.

Ford Motor Company sales November 2022 U.S.A.

Ford sales November 2022 U.S.A. (Ford brand)
Lincoln sales November 2022 U.S.A.

Ford Motor Company sales December 2022 U.S.A. (this page)

Ford sales December 2022 U.S.A. (Ford brand)
Lincoln sales December 2022 U.S.A.

Ford Europe sales Q4 2022
Ford China sales Q4 2022
Ford Motor Company Canada sales Q4 2022

Ford Canada sales Q4 2022
Lincoln Canada sales Q4 2022

Ford Motor Company Argentina sales Q4 2022
Ford Motor Company Brazil sales Q4 2022
Ford Motor Company Korea sales Q4 2022

Ford Motor Company Korea sales October 2022

Ford Korea sales October 2022
Lincoln Korea sales October 2022

Ford Motor Company Korea sales November 2022

Ford Korea sales November 2022
Lincoln Korea sales November 2022

Ford Motor Company Korea sales December 2022

Ford Korea sales December 2022
Lincoln Korea sales December 2022

Ford Motor Company Mexico sales Q4 2022
Ford Russia sales Q4 2022

Ford Russia sales October 2022
Ford Russia sales November 2022
Ford Russia sales December 2022