The all-new S650 generation 2024 Ford Mustang was revealed last September, giving the iconic pony car a fresh look, as well as more power and a brand new range-topping variant – the Dark Horse. As for the new Mustang's interior, it has also received an overhaul with a fighter-jet style cockpit featuring two screens – a 12.4-inch unit that acts as the digital instrument cluster, and a 13.2-inch infotainment screen that adorns the center stack, running Sync 4. However, there are some differences between the 2024 Ford Mustang base center stack versus the fancier, optional setup that are worth diving in to.
Ford Authority spotted a 2024 Ford Mustang EcoBoost base interior for the very first time last week, which was an interesting development since FoMoCo hasn't released any press photos of this particular setup – only the interiors of the more upscale GT Premium and Dark Horse. The base Mustang setup shown on the left features the two screens as separate units, while the optional setup on the right presents more of a seamless look, courtesy of a single piece of integrated glass that covers both screens and is angled toward the driver.
At this point, the 2024 Ford Mustang EcoBoost and GT are expected to feature the base setup, while the EcoBoost Premium, GT Premium, and Dark Horse are expected to get the single piece. Regardless, both screens offer drivers essentially the same features. The instrument cluster, for example, can be customized to display different animated designs and new drive-mode dependent visuals, with a copper appearance theme and different graphics based on what drive mode is selected.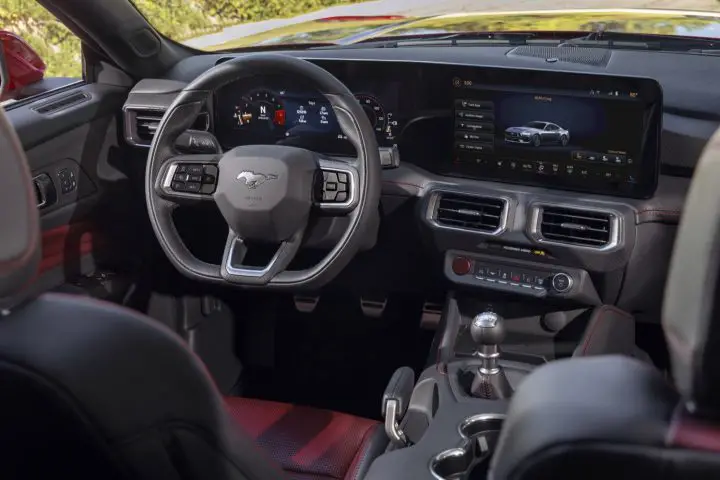 Both screens are fully customizable and drivers can make changes with simple swipes, while both utilize the same Unreal Engine 3D creation tool used in modern video games, presenting real-time graphical renderings, along with the ability to change ambient interior lighting settings. Regardless, 2024 Mustang shoppers have a big decision to make when choosing between these two screens, as the look of each is quite different. Thus, we're curious to know which setup our readers prefer, so be sure and let us know via the poll below!
We'll have more on the S650 Mustang soon, so be sure and subscribe to Ford Authority for more Ford Mustang news and non-stop Ford news coverage.