The Blue Oval has churned out its fair share of critically-acclaimed high-performance off-roaders in recent months, including the supercharged, V8-powered 2023 Ford F-150 Raptor R, the swamp-busting 2022 Ford Bronco Everglades, and recently, the 2022 Ford Bronco Raptor. However, perhaps the most intriguing version of that rugged SUV is one that isn't road legal – the Ford Bronco DR – which was revealed way back in November of 2021 as a hardcore off-road racer powered by the naturally-aspirated Ford 5.0L V8 Coyote engine. Recently, a handful of media representatives were able to test out the Ford Bronco DR, and needless to say, they came away mighty impressed.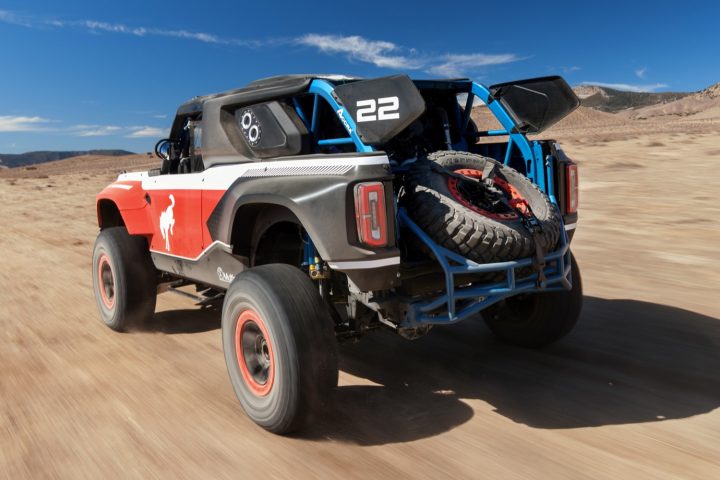 Henry Payne of The Detroit News found the Bronco DR to be rather entertaining, as well as seriously capable.
"Feels like a race car. Sounds like a race car. Except I am sitting 12 inches off the ground and slinging sand with all four of my 37-inch BF Goodrich all-terrain tires," Payne said. "On an undulating desert trail, I powered over a large mogul – lifting off the throttle to reduce stress on the V8-powered drivetrain as I sailed 30 feet through the air. The DR stuck the four-point landing and I was on the gas before the next whoop."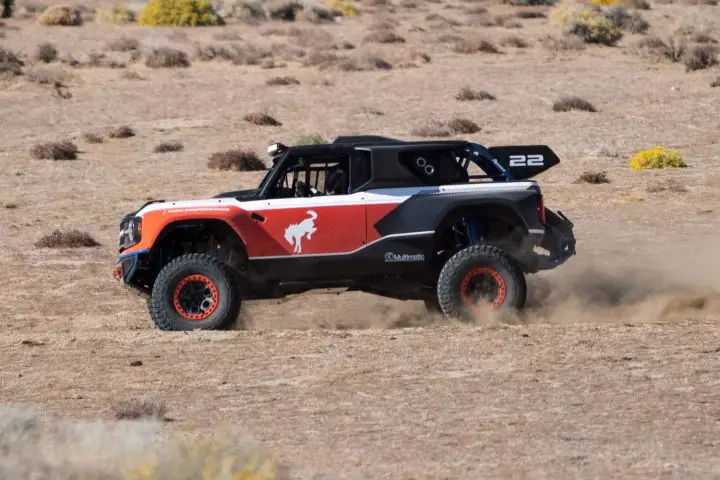 Then there's Jason Gonderman of MotorTrend, who found the $300k racing Bronco – which is limited to just 50 sold-out units – to be best described by one word – "bonkers."
"Being basically a factory vehicle at its core, the Bronco DR is refreshingly easy to drive fast," he said. "Power from the Coyote V8 engine was more than plentiful and it sang an absolutely glorious song from the tailpipes. But the DR's suspension is really the star of the show. We wheeled a vehicle – essentially constructed from factory Ford Bronco and F-150 parts – at near triple digit speeds, across some of the roughest terrain the Mojave Desert has to offer. And neither of us were worse for wear. It was a truly surreal experience."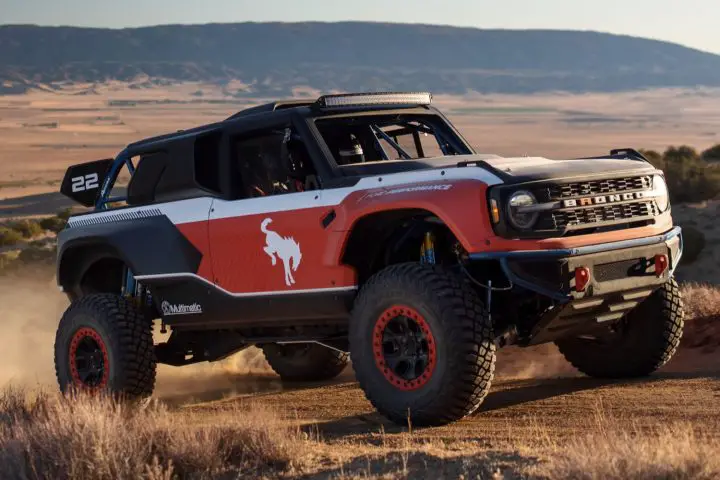 Finally, we have James Lipman of Car and Driver, who also found the Ford Bronco DR to be one heck of a desert racer.
"I press the pedal to the floor, and the DR, now pushing out over 400 horsepower, thunders like industrial machinery. With nothing for miles around to provide a visual clue as to our speed, I glance at the center-mounted screen. We're at 100 mph, but the ride is so utterly liquid and stable that I would happily sit here for hours, in this Zen-like state, being gradually deafened by five liters of screaming V8 as the desert gently rolls by. What a fantastic place to be."
We'll have more on the Bronco DR soon, so be sure and subscribe to Ford Authority for more Ford Bronco news and ongoing Ford news coverage.