The Ford Pro Electric SuperVan debuted last year as an all-electric tribute to the track-ready Ford Transit vans of the automaker's past. It made an appearance at the world-famous Nürburgring after showing up at the 2022 Goodwood Festival of Speed in the UK, where Ford CEO Jim Farley took it for a spin. After galivanting around Europe in 2022, it appears that the electric van is set to cross the pond and compete in the United States, as Ford Performance has officially revealed that a very similarly named product will compete at the 2023 Pikes Peak International Hill Climb in late June.
The vehicle formerly known as the Ford Pro Electric SuperVan is now apparently the Ford Performance SuperVan 4, as the announcement references the same 50 kWh battery and collaboration with R&D outfit STARD that accompanied the first reveal of the performance model. In any event, Ford Performance picked Romain Dumas to pilot the van, a veteran racer who seems like the ideal candidate for the endeavor. Dumas is a three-time Le Mans winner who has extensive experience with electric performance vehicles. Dumas has participated in the Pikes Peak climb eight times, with his first outing taking place in 2012.
"Fords latest generation of electric vehicle technology is the perfect match for America's Mountain" said Dumas. "With high altitudes cutting power in traditional ICE powered vehicles, the electric powertrain of SuperVan 4 has no loss at elevation and will be healthy competitor in this year's race.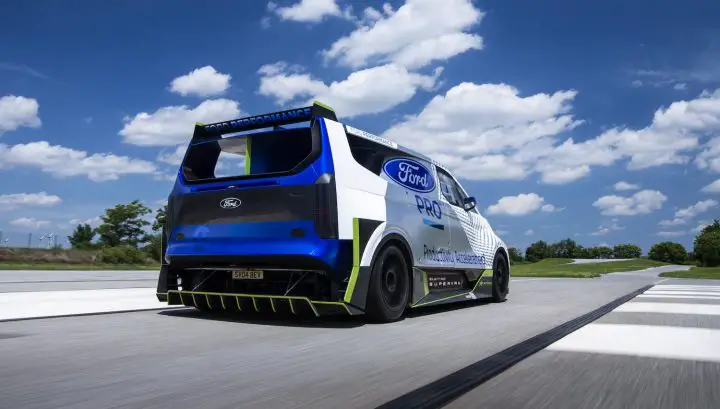 Given Ford Pro's commercial focus, it is understandable that the one-off van would get rebranded into the SuperVan 4, likely named because it represents the fourth generation performance van to be developed by The Blue Oval. Regardless, the company filed to trademark Ford SuperVan in 2022, so its upcoming participation in the Colorado event isn't a terrible shock. The 2023 Pikes Peak International Hill Climb is set to commence on June 25th 2022.
We'll have more on the SuperVan soon, so subscribe to Ford Authority for the latest Ford Performance news, and for the latest Ford news coverage.