While Ford and General Motors have been bitter cross-town rivals for over a century to this point, both are taking slightly different approaches to the upcoming electric transition. Ford has yet to commit to convert its entire North American lineup to EVs at any specific date, and instead plans to continue building ICE and hybrid vehicles for years to come, while GM intends to stop selling ICE vehicles by 2035, though that's more of goal than a hard date. Regardless, GM has also passed on the opportunity to create rivals for a number of Blue Oval models in recent years, and that list also includes the a gasoline Ford Bronco competitor, as GM President Mark Reuss recently explained to The Drive.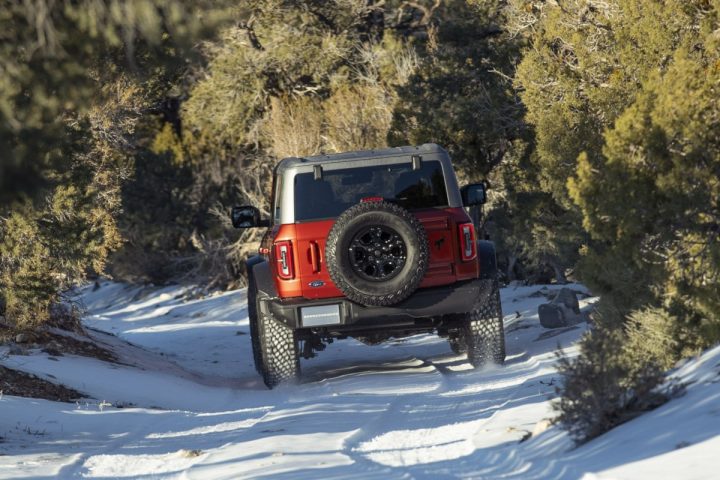 "I'm not gonna do a Bronco," Reuss said while speaking at the 24 Hours of Daytona. The executive noted that the automaker didn't want to be "late to the party" in terms of launching a body-on-frame four-wheel drive SUV, but he also pointed to regulatory requirements – in fact, he claimed that the Maverick Hybrid exists solely to help The Blue Oval meet average fuel economy standards. However, when asked if GM was considering an all-electric Ford Bronco rival, Reuss replied with "I didn't say that," leaving that door slightly open, at least.
If GM does indeed decide to make a proper all-electric Ford Bronco rival, it certainly won't be alone in that segment. As Ford Authority reported in December, a Bronco EV is expected to launch in the coming years, while the revived Scout brand – under Volkswagen's umbrella – is also expected to spawn an all-electric rival to the rugged SUV.
Meanwhile, GM – which previously said that it "isn't scared" of the new Bronco – has also rejected the idea of making a Ford F-150 Raptor rival over issues with "complexity," as well as a Raptor R competitor, though an all-electric Ford Ranger rival from Hummer and a Ford Maverick EV competitor remain possible.
We'll have more on everything Ford's competition is up to soon, so be sure and subscribe to Ford Authority for more Ford Bronco news and around-the-clock Ford news coverage.