The Blue Oval is no stranger to Victory Lane, and last week's IMSA Pilot Challenge once again saw a Ford find its way to the winner's circle. The No. 42 Ford Mustang GT4, driven by Harrison Burton and Zane Smith, captured the overall victory at Daytona International Speedway on January 27th, 2023.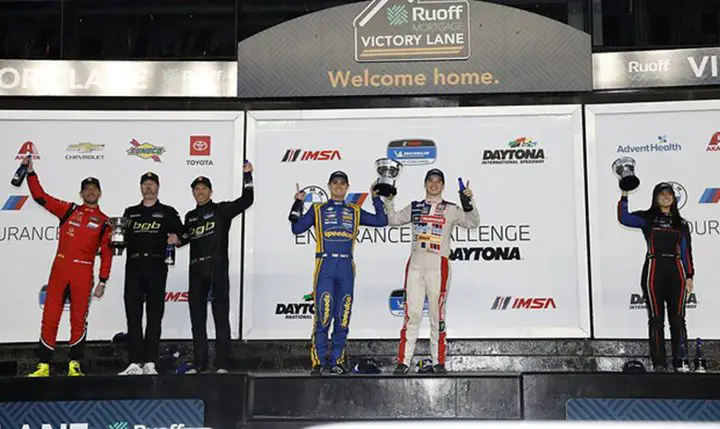 Burton took control of the No. 42 Mustang GT4 for the final leg of the race after Smith put the race car through its paces and held down the front of the field for most of his stint behind the wheel. Shuffled back after a pit stop, Burton held down third place with less than an hour left in the four-hour event, and finally assumed the lead when a competitor was forced to retire with 22 minutes still on the clock.
At the line, the margin of victory was just .688 seconds, as Burton wheeled the No. 42 Mustang GT4 ahead of the No. 83 Porsce 718 GT4 CS, driven by Spencer Pumpelly in the final leg of the race. Burton hit his marks and held the veteran Pumpelly off in the end, followed by the No. 41 Mustang GT4 of Hailie Deegan and Ben Rhodes in third. In fact, Burton and Smith are now the first NASCAR regulars to win this particular event.
"I felt like I was a little bummed out early because we got shuffled back a little after the first pit stop," said Burton after the race." It was taking me a little bit to get back to the lead, and I was like, 'I don't want to be the guy that lets the team down and not finish the race off like we should."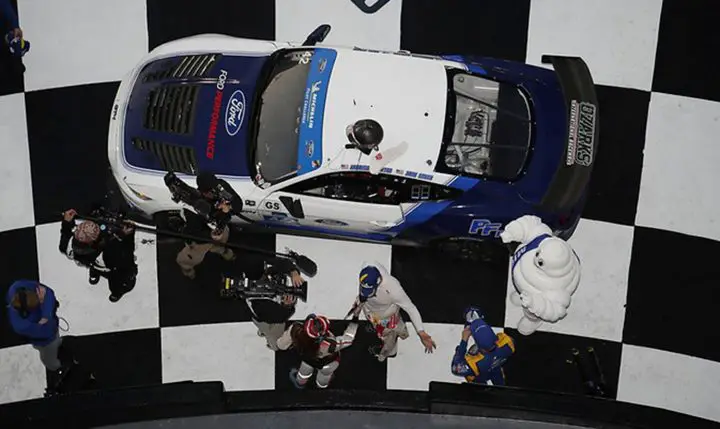 He added, "A few restarts came our way, and I kinda shuffled my way through there. Pretty similar to NASCAR racing, to be honest with you, the amount of bumping and aggressive dive bombs and stuff. I felt kinda home in that. That was fun."
Smith was equally pleased with his team's performance. "Daytona just brings such a different vibe than really any other race track," he said. "Not only to win at Daytona but in our first start is just so cool."
As a reminder, Burton drives the No. 21 Next Gen Ford Mustang in the NASCAR Cup Series. Meanwhile, Smith is the defending NASCAR Truck Series champion, where he drives the No. 38 Ford F-150.
Subscribe to Ford Authority for more Ford racing news around-the-clock Ford news coverage.