Enthusiasts have long been enamored with the idea of what's widely known as a "shooting brake" – or a body style that's reminiscent of a wagon, yet inspired by horse-drawn wagons from the 1890s that were used to transport hunters, their equipment, and their game from one place to another. The first automotive shooting brakes surfaced in the early 1900s, and now, typically describe a vehicle that combines coupe and station wagon body styles, though they're rarely seen in today's world. However, like most enthusiasts, we love shooting brakes, and these renderings from Sugar Design show us what an S650 Ford Mustang variant of this type might look like.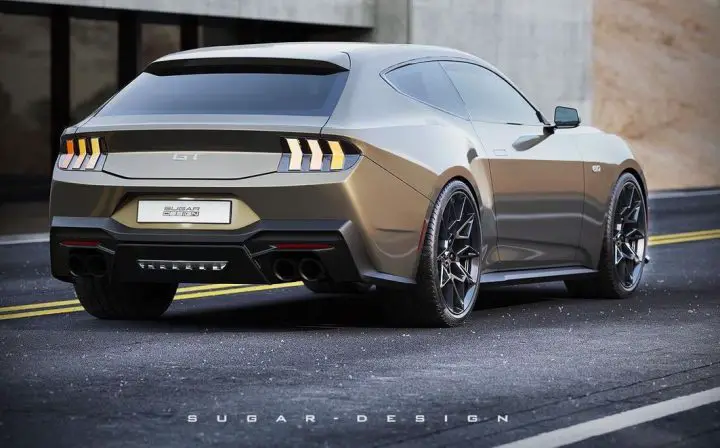 These renderings depict a regular old S650 Ford Mustang GT, complete with the coupe's fresh new lines from one end to the other. The only difference, of course, is that the artist extended the roofline all the way to the rear, giving the pony car a large cargo area in lieu of a trunk. The result of that effort is rather impressive, as the sleek, forward-sloping rear glass looks like it could have been designed this way from the start.
While it's unlikely that an S650 Ford Mustang shooting brake would sell in any sort of large quantities – few of its peers ever have, while wagon sales in general represent a tiny slice of the overall market – there's certainly a business case to be made for a sporty machine with loads of utility, as not everyone wants a crossover or SUV.
View this post on Instagram
Of course, this isn't the first time we've seen an artist try their hand at creating a shooting brake version of a pony car, as we came a across a Fox Body coupe/wagon a little over two years ago. Perhaps the day will come when FoMoCo expands its Mustang lineup to include such an offering – and, maybe, a high-performance off-road-focused Raptor version of its iconic pony car, too.
We'll have more cool renderings to share soon, so be sure and subscribe to Ford Authority for more Ford Mustang news and non-stop Ford news coverage.