During a recent visit to the Petersen Automotive Museum in Los Angeles, California, Ford Authority was able to check out a variety of cool, unique and interesting vehicles up close. That includes a 1969 Mercury Cougar XR-7 convertible that appeared in the 1969 James Bond movie On Her Majesty's Secret Service, a 1971 Ford Mustang Mach 1 from the 1971 flick Diamonds are Forever, Vaughn Gittin Jr.'s 2017 Ford Bronco RTR racer, the 2003 Mercury Messenger Concept, 2001 Lincoln MK 9 Concept, and a 2021 Ford Bronco design study model. Now, we have yet another cool artifact from the Petersen to show off – this 1976 Ford Gran Torino, which appeared in the TV series Starsky and Hutch.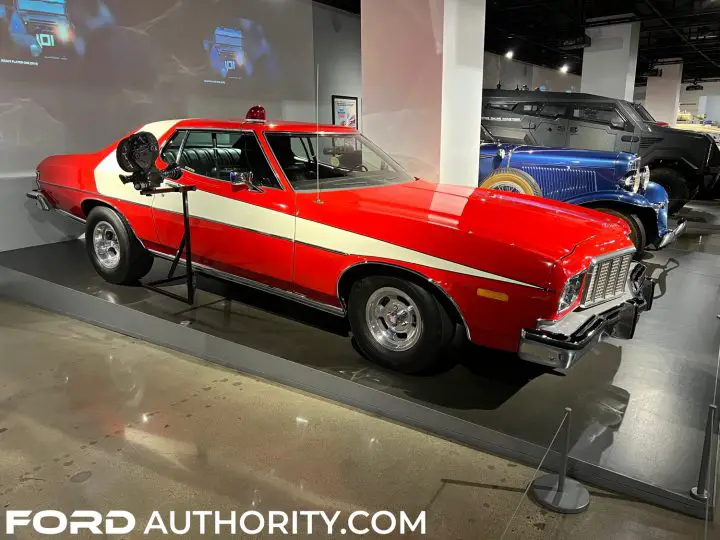 Years after the Carlisle Ford Nationals paid tribute to the Starsky and Hutch 1976 Ford Gran Torino on its 40th anniversary, this car is one of just three surviving examples from the TV show, which aired from 1975-1979. This particular vehicle is known as "Car #1" from that series, and was ordered from Ford's Studio-TV car Loan Program by Spelling-Goldberg Productions before it was put into action for small screen purposes.
Starsky and Hutch was a detective television series that rose to fame by depicting the antics of police officers in the fictional town of Bay  City, California, and eventually spawned both a full-length feature movie and a video game. Interestingly, some of the characters and plots were based on real-life New York City detectives Lou Telano and John Sepe, who gained notoriety for their unconventional but effective undercover police work.
Amazingly, one of the original side-mounted cameras that was used to films actors Michael Glaser (who played David Starsky) and David Soul (Kenneth Hutch) in seasons two through four remains intact and attached to the vehicle, while autographs from both actors – as well as other cast and crew members – adorn the headrests and various other parts of the classic Gran Torino – which is now merely a nifty piece of TV and automotive history.
We'll have more cool vehicles from the Petersen Automotive Museum to share soon, so be sure and subscribe to Ford Authority for more Ford Gran Torino news and ongoing Ford news coverage.