After first hitting the air way back in 1981, MotorWeek has since gone on to last for a whopping 42 seasons and 1,900 episodes in what is one of the most impressive runs in TV history by any measure. Many of us grew up watching this automotive magazine for television, hosted by the legendary John Davis, and today, we can also relive classic moments from the series courtesy of its YouTube counterpart's Retro Review series. Recently, we've taken trips down memory lane with Retro Reviews of the 2002 SVT Ford Ranger Lightning Bolt concept, the 1994 Ford Aspire, 2002 Ford Focus SVT, and 2002 Ford Thunderbird. Now, we can also enjoy this cool vintage clip going over the 1996 Ford Mustang Cobra convertible in detail, too.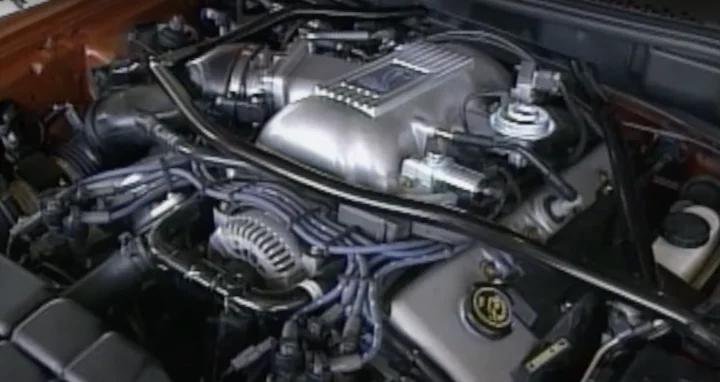 The Cobra name was once synonymous with high-performance Mustangs, long before the Shelby moniker made its return, and back in 1996, this red drop top was about as good as pony cars got – in fact, Davis calls it "the perfect Mustang." Amazingly, it was also quicker than the coupe version the rag tested, doing 0-60 in 5.5 seconds – versus 5.7 for the coupe – even though it weights 176 pounds more than the fixed-roof version. It was also a tenth quicker in the quarter-mile, hitting the traps in 13.9 seconds at 105 miles-per-hour.
Making that possible is the car's Ford 4.6L V8 modular, dual-overhead cam, all-aluminum powerplant, which generates 305 horsepower and 300 pound-feet of torque, flowing to the rear wheels via a BorgWarner T-45 five-speed manual transmission. Thanks to vented disc brakes, it also stops from 60 mph in just 119 feet, though the drop top's added weight and lack of a roof led to a bit more push in the corners than the coupe.
Regardless, MotorWeek walked away from their 1996 Ford Mustang Cobra convertible review seriously impressed, praising its styling and comfort as well as its performance. Calling it the "perfect Mustang" seems like a bit of a stretch, but back in this era, it's easy to see why this red drop top was so appealing.
We'll have more cool videos like this to share soon, so be sure and subscribe to Ford Authority for more Ford Mustang news and continuous Ford news coverage.