The 2023 Ford F-150 sees some major additions to its lineup for the third model year of the pickup's 14th generation, headlined by the introduction of the high-performance Raptor R package and the entry level Rattler off-road package, and the deletion of entry level equipment groups across the lineup.
2023 Ford F-150 Model Line
The 2023 Ford F-150 does not see any changes to its model line, meaning that its eight trim levels carry over from the previous model year. Its trim levels include XL, XLT, Lariat, King Ranch, Platinum, Limited, Tremor and Raptor. It's important to note that the Raptor line is supplemented by the Raptor R package, but it is not considered its own trim level.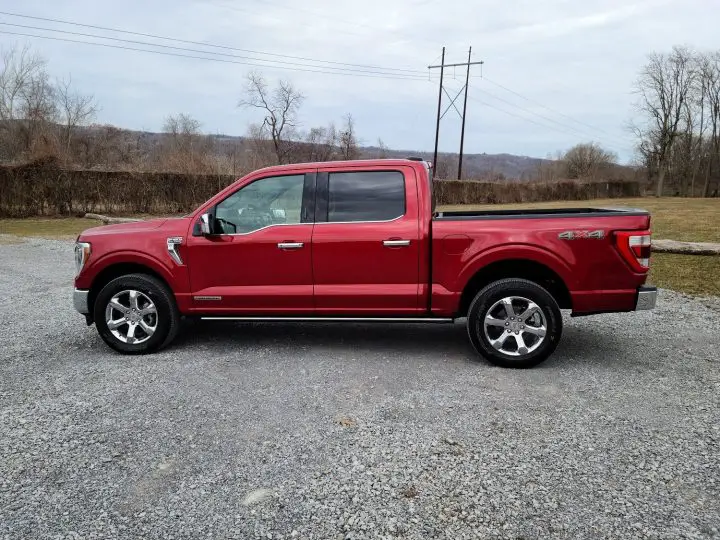 2023 Ford F-150 Exterior
The 2023 Ford F-150 sees changes to its exterior color offerings, losing several paint colors while gaining quite a few new ones.
Deleted colors:
Smoked Quartz Metallic Tinted Clearcoat
Space White Metallic
Added colors:
Area 51 Blue (KU)
Avalanche (DR)
Azure Gray Metallic Tri-Coat (G4)
Hot Pepper Red Metallic Tinted Clearcoat (EA)
Additionally, the 2023 Ford F-150 Lariat is no longer available in the Super Cab configuration.
2023 Ford F-150 Interior
The 2023 Ford F-150 sees no changes to its interior over the prior model year, and retains all features, technology and interior colorways as the 2022 model.
2023 Ford F-150 Mechanical
The 2023 Ford F-150 Raptor R variant brings the supercharged Ford 5.2L V8 Predator engine to the pickup's option list. This engine, which was also harnessed by the Ford Mustang Shelby GT500, is tuned to deliver a significant 700 horsepower and 640 pound-feet of torque. The only way to outfit the F-150 with this powerhouse is to opt for the Raptor R package.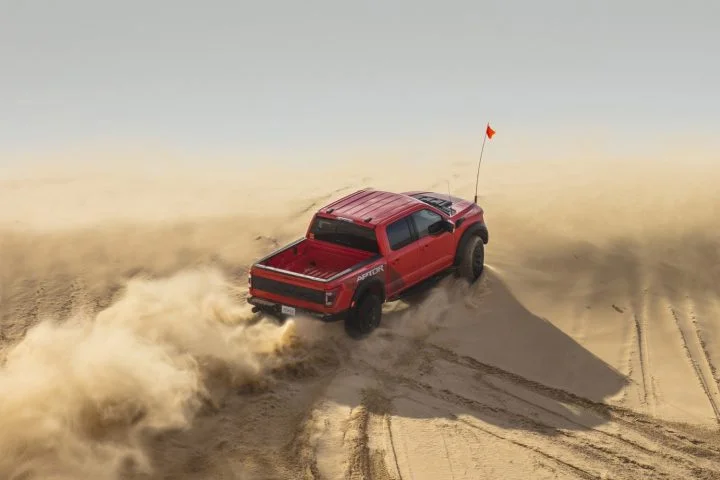 Additionally, the 2023 Ford F-150 Tremor features the naturally-aspirated Ford 5.0L V8 Coyote engine as standard along with a four-wheel-drive drivetrain, as first reported by Ford Authority. This engine provides 400 horsepower and 410 pound-feet of torque for the off-road-ready pickup.
As for the rest of the lineup, the engine offerings remain unchanged for the 2023 model year. The turbocharged Ford 2.7L V6 EcoBoost engine provides 290 horsepower and 265 pound-feet of torque, and is standard for the XL, XLT and Lariat trims. The naturally aspirated 3.3L V6 Duratec engine, meanwhile, delivers 290 horsepower and 265 pound-feet of torque, and is optional for the XL or XLT trim, while the turbocharged 3.5L V6 EcoBoost is optional for Lariat and standard on King Ranch and Platinum, good for 400 horsepower and 500 pound-feet of torque. The 3.5L hybrid V6 setup, meanwhile, produces 430 horsepower and 570 pound-feet of torque, and is optional for Lariat, King Ranch and Platinum trims, while it is standard on Limited.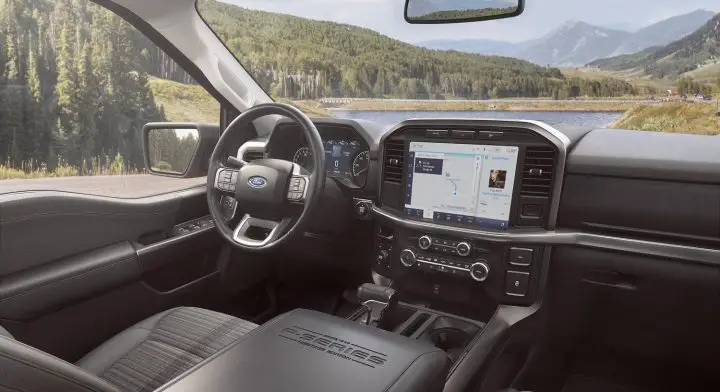 The "regular" Raptor harnesses the turbocharged high-output 3.5L V6 EcoBoost engine, which is tuned to deliver 450 horsepower and 510 pound-feet of torque. Finally, the naturally aspirated 5.0L V8 engine is optional for XL, XLT, Lariat and Platinum trims, and as previously stated, it is standard on the Tremor.
2023 Ford F-150 Packages
The 2023 Ford F-150 sees quite a few changes to its package lineup for this model year. The main addition to the lineup is that of the Raptor R package, which builds on the Raptor trim by adding a host of high-performance upgrades and enhanced exterior and interior accessories. It features a beefed-up front axle, a larger driveshaft, and a five percent increase in the front spring rate to handle the increased output from its supercharged engine.
As far as aesthetics go, the Raptor R doesn't feature many notable differences over the "regular" Raptor, but it can be identified by its Code Orange "R" badging on the grille, power dome and tailgate, as well as its special graphics package applied to the rear fenders. Code Orange tow hooks serve to further set this vehicle apart. Inside, it gets Recaro seats, Code Orange stitching, and carbon fiber trim elements, along with a 12-inch infotainment screen complete with Sync 4 capabilities. The Ford F-150 Raptor R began shipping to dealers in November 2022.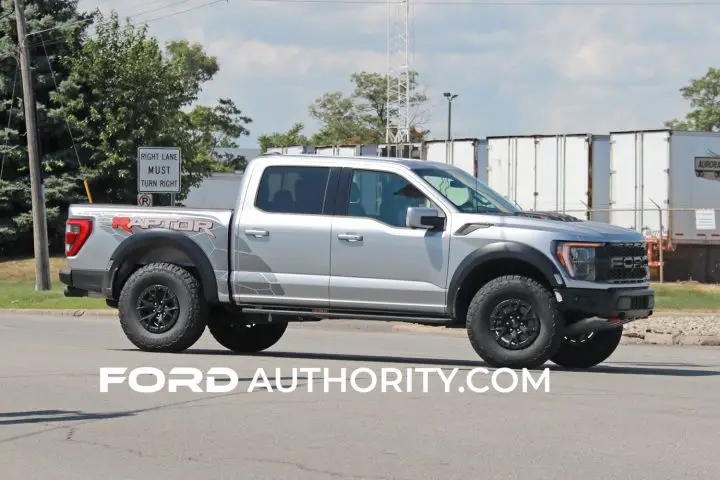 The Rattler, meanwhile, builds on the Ford F-150 XL trim, outfitting the entry level pickup with off-road elements at a more affordable price. It features Rattler badging, rattlesnake-inspired graphics, painted 18-inch wheels and a dual exhaust system. Inside the cabin, the F-150 Rattler comes equipped with Onyx seats finished with burnished bronze accents and stitching, which matches the same style of trim on the instrument panel. This package proved so popular, it has already sold out for the 2023 model year.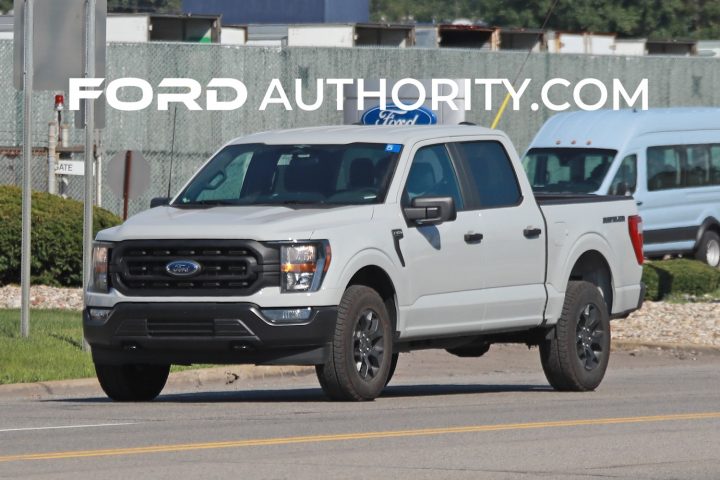 The 2023 Ford F-150 also gains the Heritage Package, adding a special exterior paint theme, custom embossing with a Heritage Edition logo, flow-through console and seating, an interior work surface, a molded-in Black honeycomb grille with body-color surrounds and a Slate Gray and Black interior color theme.
Additionally, the 2023 Ford F-150 dropped quite a few of its entry level packages for different trim levels. The 100A Equipment Group for the XL trim was dropped, meaning that this trim gains several standard features like cruise control, reverse sensing steering, power windows, power door locks, a power tailgate lock, illuminated entry, perimeter alarm, MyKey, as well as power glass sideview mirrors with heat and black skull caps. The F-150 Raptor and F-150 Tremor also lost their entry level equipment groups, which means that all of the features included within will now be considered standard, although the MSRP of these pickups will increase as a result.
2023 Ford F-150 Availability
The 2023 Ford F-150 is produced across two Ford facilities in the United States:
However, it's worth noting that the order banks for the 2023 F-150 have closed for a handful of features, including SuperCab configurations with the STX Black Package, Stone Gray and Rapid Red exterior colors, and extended running boards. SuperCab pickups with the STX Black Package are also only compatible with the twin-turbocharged Ford 3.5L V6 EcoBoost engine, though those ordered with the Ford 2.7L V6 EcoBoost or Ford 5.0L V8 Coyote prior to February 6th will be built. However, dealer stock orders containing any of these aforementioned features will no longer be eligible for scheduling or production starting February 6th.