Aside from being named Consumer Reports' top pick for current active driving assistance systems (ADAS), Ford BlueCruise has also proven to be a smash hit with consumers, as more and more are signing up for the feature with each passing month. In fact, a grand total of 186,000 vehicle owners have now enrolled in either Ford BlueCruise or Lincoln ActiveGlide, and those users have driven 55 million miles with the features activated, too. Now, with a new BlueCruise/ActiveGlide 1.2 update rolling out, the YouTube channel Gears and Gadgets recently got the chance to check it out, and they came away mighty impressed with it as a result.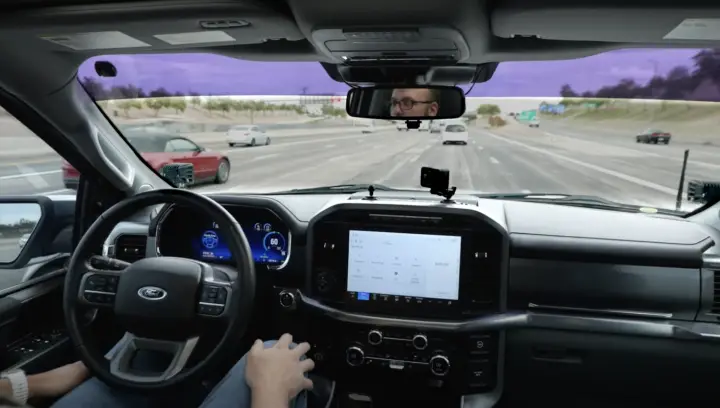 As our host points out, the original version of Ford BlueCruise wasn't perfect by any means, and he experienced a lot of "ping ponging" or drifting in between the lines on the road with it engaged. It would also stab the brakes from time to time, and felt overall very "uncomfortable" to many, but all of those issues have apparently been corrected in version 1.2.
The system now keeps the vehicle planted, according to our host, as well as far more smooth in terms of staying centered in a lane and braking when needed. The update also adds lane-changing capability, which is nice, and is also far better in sweeping corners, where the old system would take those turns a bit too fast sometimes. BlueCruise 1.2 also gives the vehicle more space when riding next to a semi truck, which could be a bit unnerving with the previous version.
Braking and accelerating are much smoother in the 1.2 update as well, whereas the old system would "gun it" or brake harshly if a vehicle cut in or out in front of it, according to our host. Even on milled roads, the pickup does a far better job of recognizing where the lanes are, whereas the old version had quite a bit of trouble in that regard. Overall, it seems as if the BlueCruise update has done a good job of addressing the concerns most users have had thus far, which bodes well for the future of this particular feature.
We'll have more on BlueCruise soon, so be sure and subscribe to Ford Authority for continuous Ford news coverage.