Though it's already a competent performer from the factory, the Ford Explorer ST can churn out rather high amounts of horsepower with the right upgrades, as we've seen in the past. Ford Performance already offers a performance calibration for the sporty crossover capable of taking its twin-turbocharged Ford 3.0L V6 EcoBoost engine from stock ratings of 400 horsepower and 415 pound-feet of torque up to 430 horsepower and 467 pound-feet, and now, Palm Beach Dyno is rolling out some new features for owners via its Matrix OS software, too.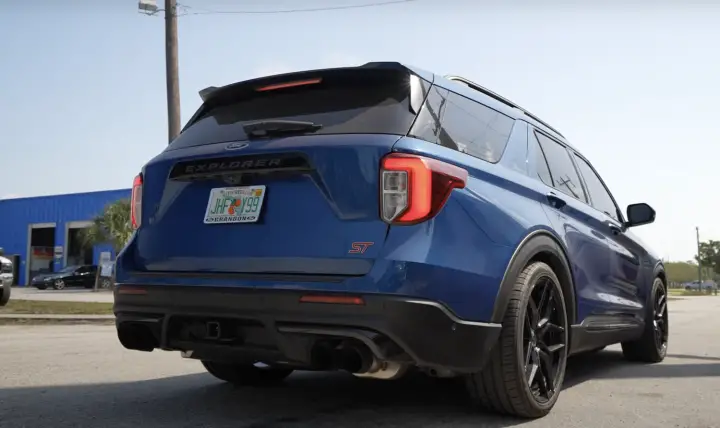 For starters, this new, custom operating system from the well-known, Florida-based tuner comes with multi-tune functionality, which gives owners the ability to change tunes while the vehicle is running. To do this, simply turn on cruise control, hit the cancel button, and the tachometer automatically turns into the tune selection screen. Additionally, owners can also adjust their engine's output by percentage via the speedometer while using the same interface. If noting else, this type of feature would come in handy for those that let others drive their high-po crossover.
On the flip side, launch control is enabled by this particular piece of software as well, which is a nice feature for the track that also just so happens to cut a couple tenths of a second off of the 0-60 time of this Ford Explorer ST, as we can see in the video. Next, we get to see how anti-lag works in this particular application, which also makes a big difference in rolling acceleration.
These are all nifty features that PBD will offer at some point in the near future, but for now, the tuner already sells both preloaded and custom tunes for the sporty crossover, so owners can already extract some extra performance from their family haulers in the meantime.
We'll have more parts and accessories to share soon, so be sure to subscribe to Ford Authority for more Ford Explorer news and around-the-clock Ford news coverage.