As third-party companies like Electrify America work diligently to expand the number of all-electric vehicle chargers in the U.S. and other parts of the world, a consensus has formed around the fact that current charging infrastructure is, in fact, a bit lacking in terms of both reliability and scope. Thus, Ford's new Model e Certified program for dealers requires those entities to install public fast chargers at their locations, while Tesla is also beginning to open up its vast Supercharger network to owners of other branded EVs, with a full rollout expected by 2025. Recently, Tom Moloughney – founder of the YouTube channel State of Charge – headed out to one of those compatible chargers in his Ford F-150 Lightning to see just how that process works.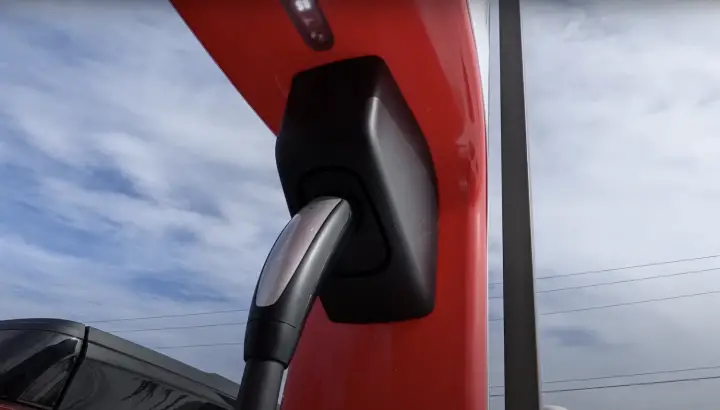 As Moloughney points out in the video, Tesla was a very early adopter in terms of EVs, having launched its first one, the Model S, back in 2012. As such, the company developed its own proprietary charging network with its own type of connector, back when there was no standard such as the Combined Charging System (CCS) that many EVs use today. This has complicated things as many are calling for a universal standard in that regard, though CCS adapters are already available.
To make this happen, Tesla developed what it calls the "Magic Dock," which has a CCS adapter attached to a regular Tesla connector. This way, the charger can be used by either Tesla or non-Tesla EV owners. When owners of other EVs – like this Ford F-150 Lightning – request a charge via the app, the charger automatically comes out with the adapter connected.
However, there are some problems with this arrangement, as Moloughney quickly discovers. For starters, the Tesla charge cable is barely long enough to reach the Lightning's charge port, but only when the truck is parked extremely close to the charger, and it puts the cable in a precarious position. Thus, Moloughney moves to another charger that's facing a different direction, and everything works well. In fact, he notes that the Tesla charger connected quicker than an Electrify America unit, which is notable, indeed.
We'll have more informative videos like this to share soon, so be sure and subscribe to Ford Authority for 24/7 Ford news coverage.