The Ford Fiesta was discontinued in the U.S. some time ago, but has managed to live on in Europe to this day – though the long-running model will soon be retiring as The Blue Oval focuses more on crossovers and EVs in that particular region. Regardless, there are plenty of folks that still love it – particularly the ultra-fun, high-performance Ford Fiesta ST – and there are many of them still out there on the roads to this day. However, one Ford Fiesta ST owner recently found out the hard way that performance vehicles generally aren't quite as capable on snowy, icy surfaces as they are on dry ones.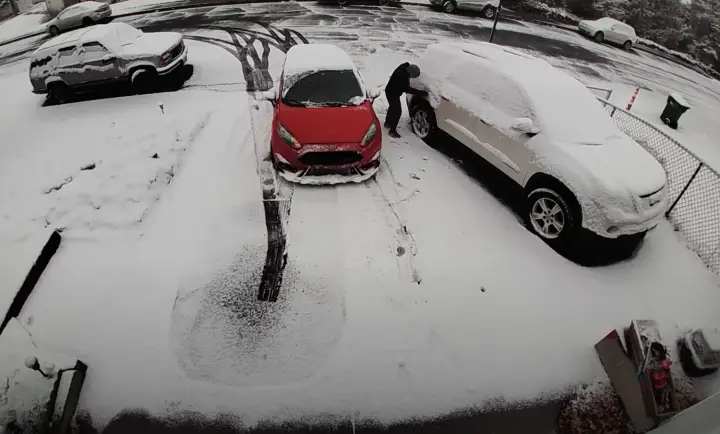 "This was after I returned from the gym on a Saturday morning," the owner told ViralHog, which published the clip on YouTube recently. "There was fresh snow on the ground. I pulled up in my driveway that's really steep. When I got out of the car, it slid down the hill. I avoided it getting dragged by the door. It eventually hit my wife's car and then stopped."
We imagine that the Ford Fiesta ST owner was feeling rather good about the way his particular car handled the icy roads on his way to and from the gym, but things quickly escalated once he exited the vehicle. Just as soon as he stepped out of the driver's side, the hot hatch began to slide backwards, with its door smashing into his wife's crossover and seemingly leaving a nasty dent in it. However, things could have obviously gone much worse, as he was very nearly pinned against it.
The owner's first response was to check both vehicles for damage, which is understandable. It seems as if the Fiesta didn't suffer the brunt of the impact, as the door still opens and shuts just fine, but the same can't be said for the Honda. Regardless, this sort of incident is just the latest bit of video evidence that slippery winter roads can do strange things to vehicles – in fact, in recent years, we've seen a Ford F-150 take its own wild ride down an icy road, as well as a Ford Super Duty that wiped out in yet another shocking crash.
We'll have more wild videos like this to share soon, so subscribe to Ford Authority for the latest Ford Focus news, Ford Fiesta news, and ongoing Ford news coverage.