In 2001, then-Cup Series rookie Kevin Harvick took control of the No. 29 Chevy race car, filling the seat left open by the late Dale Earnhardt at Richard Childress Racing (RCR). Harvick drove the No. 29 Chevy through the 2013 season before signing on with NASCAR Ford team Stewart-Haas Racing (SHR), where he has driven the No. 4 Mustang since. Now, RCR and SHR have teamed up to put Harvick behind the wheel of a race car bearing the No. 29 on its doors one last time in his final fulltime season.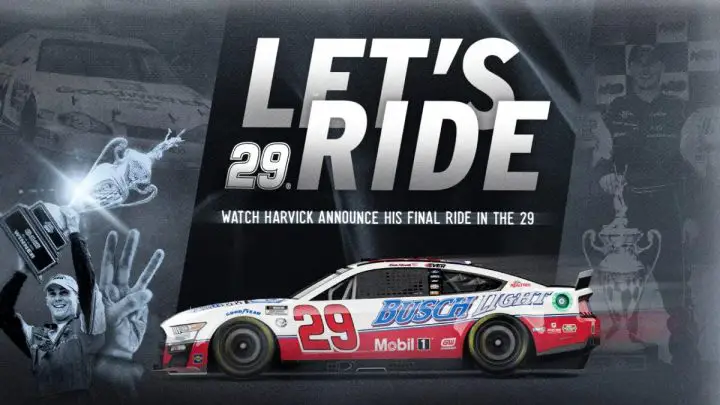 Harvick will drive the No. 29 NASCAR Ford Mustang one time only at North Wilkesboro Speedway for the annual non-point paying All-Star Race on May 21st, 2023. The No. 29 Mustang will carry a throwback paint scheme commemorating the livery Harvick's Chevy carried when he won his first Cup Series race in just his third start on March 11th, 2001 at Atlanta Motor Speedway.
"When I sat in the 29 for the first time, it really wasn't by choice, but I definitely wouldn't have done it any differently," Harvick said in a press release. "Dale's passing changed our sport forever, and it changed my life forever and the direction it took."
He added, "Looking back on it now, I realize the importance of getting in the Cup car, and then I wound up winning my first race at Atlanta in the 29 car after Dale's death. The significance and the importance of keeping that car on the racetrack and winning that race early at Atlanta – knowing now what it meant to the sport, and just that moment in general of being able to carry on – was so important. With this being my last year as a Cup Series driver, we wanted to highlight a lot of these moments, and many were made at RCR in that 29 car."
Though the stylized No. 29 is technically still owned by RCR, the organization "loaned" it to SHR to decorate Harvick's NASCAR Ford in his final All-Star Race. He will continue to pilot the No. 4 Mustang for all other Cup Series races this season.
We'll have more Ford Performance racing news soon, so subscribe to Ford Authority for more Ford racing news, NASCAR news, Ford Mustang news and 24/7 Ford news coverage.