Aric Almirola, driver of the No. 10 NASCAR Ford Mustang, was penalized as a result of a loose wheel incident that occurred during the Cup Series race at Phoenix Raceway on March 12th, 2023.
Near the halfway point of the race, the right front wheel of Almirola's No. 10 NASCAR Ford separated from the vehicle, causing Almirola to hit the wall on the front stretch before he had to nurse his race car back into the pits for repairs. He was forced to serve a two-lap penalty during the race. According to Toby Christie, the team noted that the center portion of the wheel was still attached to the Mustang's hub, while the rest of the wheel ultimately sheered off and separated from the race car. The contact with the wall also damaged the toe link of the No. 10 Mustang.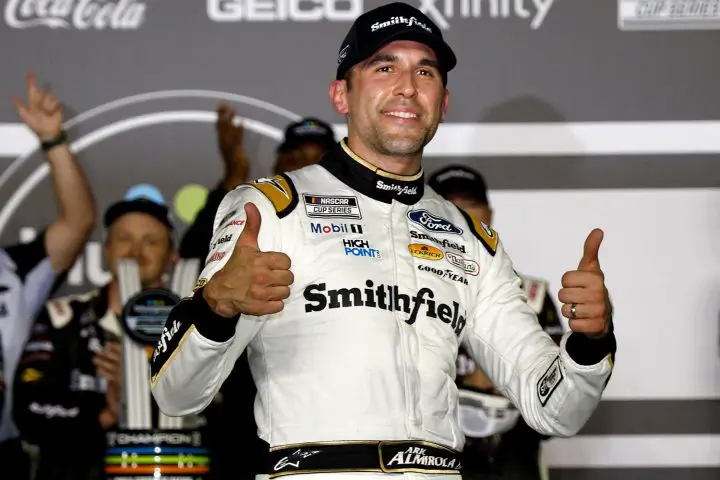 On Wednesday, NASCAR announced that the No. 10 NASCAR Ford team's jackman, Sean Cotten, and the front tire changer, Ryan Mulder, will be suspended from Cup Series competition for the next two races. Michael Osinksi, a backup pit crew member from Almirola's team, Stewart-Haas Racing, will fill in for Cotten as jackman, while Davis Sampere, a pit crew member from Rick Ware Racing, will be the substitute front tire changer until Osinski serves his penalty.
"I never felt the wheel loose or anything," Almirola said after the race. "It just took off on me and sent me into the wall." He ultimately crossed the line in 33rd, four laps down.
Oh my… Aric Almirola has had the wheel fly off of his No. 10 machine. This caused him to go into the wall, and broke his toe link: pic.twitter.com/S7Mxk2RiZg

— Toby Christie (@Toby_Christie) March 12, 2023
Interestingly, this seems to be the first instance of a wheel actually coming apart since the advent of the NASCAR Next Gen race car, which deviated from the traditional five-lug wheel to a single-lug wheel. Loose wheel penalties have been assessed to other drivers in the past, but not because of the wheel breaking apart.
Subscribe to Ford Authority for more Ford racing news, NASCAR news, and ongoing Ford news coverage.