Ford technician and YouTuber Brian Makuloco of the channel Ford Tech Makuloco has worked on his fair share of Ford F-150 pickups over the years, and he's clearly a subject matter expert on that model, as well as various other Blue Oval machines. For those experiencing problems with the popular pickup, his videos are a great resource, and in recent months, Makuloco has churned out helpful tips on 10-speed automatic gear skipping, rattling issues with the twin-turbocharged Ford 3.5L V6 EcoBoost engine, and heater core problems. Now, ironically right after fellow YouTuber David Long – the Car Wizard – released his own video outlining poor workmanship by another shop, Makuloco has done the same with a customer's 2016 Ford F-150.
This particular 2016 Ford F-150 is equipped with the first-generation 3.5L V6 EcoBoost engine, and the owner brought it to Makuloco because it was misfiring and leaking oil. He quickly figured out that the misfire was due to a spark plug issue, but the oil leak was something different altogether – a problem that had just popped up a couple of weeks prior, apparently after the owner had another shop swap out the truck's exhaust manifolds with aftermarket pieces.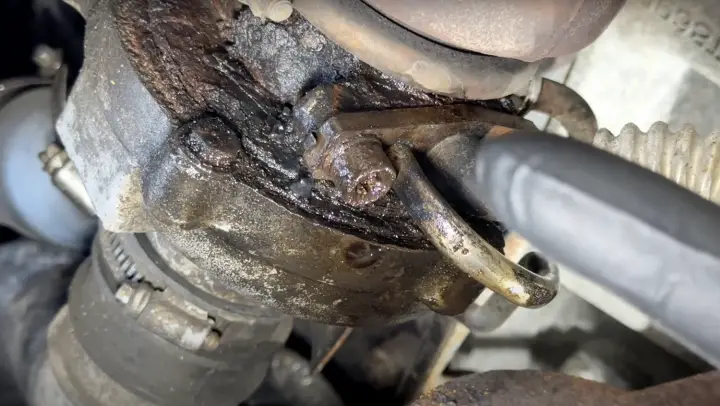 Problem is, the exhaust manifold studs on these engines have a tendency to break easily, and the shop did a pretty terrible job of installing that upgraded part. For starters, after draining the coolant, they didn't refill it properly, and when it arrived at Makuloco's shop, it was quite low. On top of that, there's a missing bracket that didn't get reinstalled, with various other bits and pieces out of place, too.
Aside from failing to install the new exhaust manifolds properly, bigger horrors reside underneath the truck, where the shop didn't use all of the included holes, and didn't install the spacers that came with the kit, which means that the kit's hardware isn't clamping down hard enough to seal everything properly. It's a true nightmare, as Makuloco calls it, and just further proof that a good mechanic is worth their weight in gold.
We'll have more videos like this to share soon, so be sure and subscribe to Ford Authority for the latest Ford F-Series news, Ford F-150 news, and continuous Ford news coverage.