Since its debut last July, the 2023 Ford F-150 Raptor R has earned near-universal praise from everyone that's driven it, but that's not terribly surprising for an already capable off-road pickup fitted with the supercharged Ford 5.2L V8 Predator, which generates 700 horsepower and 640 pound-feet of torque in this guise. The 2023 Ford F-150 Raptor R has already beaten its chief rival, the Ram TRX, in some comparison tests, but now, we get to see it line up against something totally different – the Toyota GR Supra – in this new video from Hoonigan.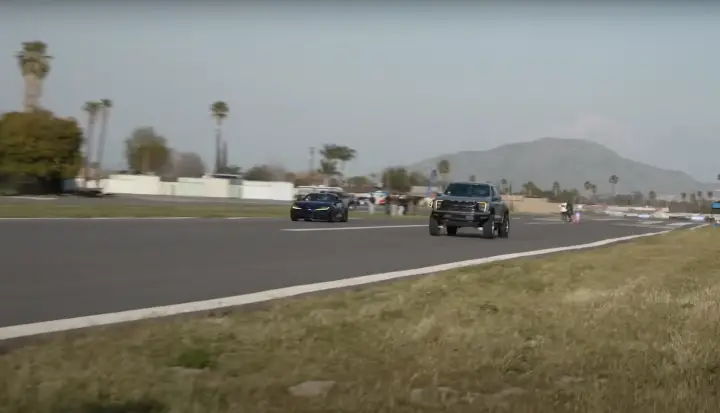 For its This vs. That series, Hoonigan routinely pits two very different kinds of vehicles against each other in a straight line drag race in a best two out of three series, with some handicaps built in just in case one vehicle proves to be far quicker than the other. This time around, the Raptor R is lining up against the Toyota GR Supra, a reborn classic that's equipped with a modified turbocharged 3.0L I-6 that cranks out 440 horsepower.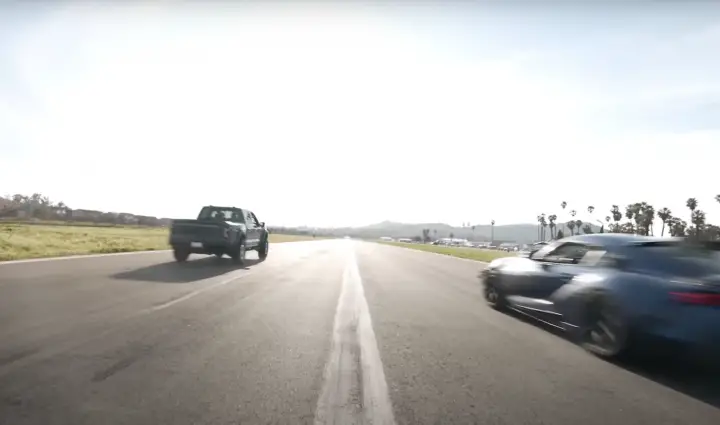 That's a lot less than the Raptor R, but the Supra also weighs a mere 3,400 pounds compared to the pickup's hefty 6,000-pound curb weight. However, the Raptor R does have the traction advantage of four-wheel drive, while the Supra drives the rear wheels only. When these two line up for the first race, it's a pretty close one, however, with the Supra claiming victory by roughly a half-car.
Thus, for the second race, the Raptor R gets the hit and takes full advantage, calming a pretty easy victory against the import. Thus, it's all down to the tiebreaker, which is yet another head-to-head race, and it ends with the big truck once again taking home the win, this time by an even larger margin. The resulting bonus roll race ends precisely the same way, and we can now declare the Raptor R as the superior drag racer when compared to its sportier foe – as surprising as that may be to some.
We'll have more on the Raptor R soon, so be sure and subscribe to Ford Authority for the latest Ford F-150 news, Ford F-150 Raptor news, and ongoing Ford news coverage.