While the Ford Focus is set to be discontinued in 2025, the long-running model remains a popular entity, even ranking among the top 25 best-selling vehicles in Europe across the first quarter of this year. Turns out, there are many reasons why that's the case, as the Focus is an affordable, efficient, and solid method of transportation for many – as well as a pretty competent handler when the situation calls for it, as we can see in this video showing it going through what some like to call the "moose test."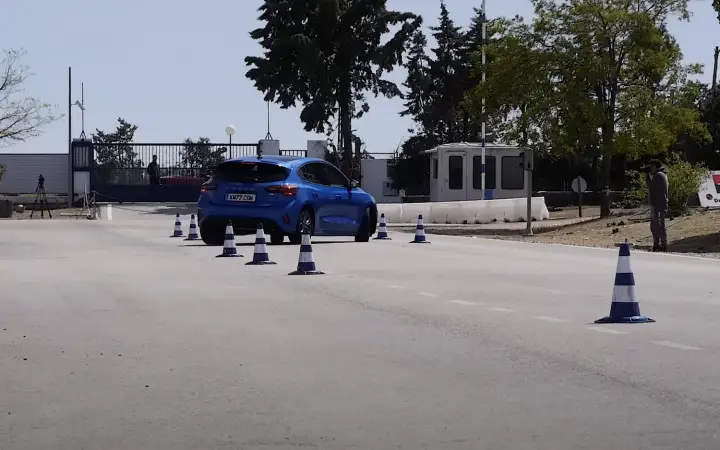 The moose test is designed to evaluate a vehicle's electronic stability control system in real life. At speed, the driver of the vehicle conducts an evasive maneuver around an obstacle, while remaining within certain limits or lanes. The same test is then conducted over and over again at increasingly high speeds until the vehicle fails to stay within the designated limits or when it hits the obstacle. Sometimes, this test goes quite well, and others, well, not so much – in fact, we saw the Ford Mustang Mach-E fail this same test back in 2021.
First up, our hosts subject the 2023 Ford Focus to a slalom, where the team came away impressed with the car's agility and the fact that it feels light on its proverbial feet. The stability control doesn't execute any strange attempts to correct the steering, which can often be the case in newer cars, and ultimately, it performs quite well in this first test.
Moving on to the moose test, the team ran into a bit of a problem at first when the driver incurred more understeer than expected, though it noted that the car responded to this very well. A few more attempts later, the driver nailed it, though the stability control system overreacted, slowing the car down by a significant margin. Regardless, for a slightly sporty (in this case, an ST-Line trim model) car, the 2023 Ford Focus performed admirably, proving to be an easy vehicle to control, even in emergency type situations.
We'll have more on the Ford Focus soon, so subscribe to Ford Authority for the latest Ford Focus news, and comprehensive Ford news coverage.